Edward Snyder was born in Sokal, Austrian Poland (now part of Ukraine) in 1835 and educated at Lemberg (now Lviv) and later at the University of Vienna. He became an officer in the Austrian army, taught languages and history at a cadet school and took part in Austria's campaign in Italy in 1859. In 1862 he emigrated to the United States, enlisted in a New York regiment and served during the American Civil War. After the war he taught high school in the St. Louis area before becoming one of the first professors at the new University of Illinois in 1869, where he taught German and military science and was commissioned colonel in the Illinois national guard, commanding the University battalion.
Professor Snyder remained at the University of Illinois for 28 years, finally retiring as Dean of the College of Literature in 1896. In addition to his years of service, he donated $12,000 to the University to be used for student aid, loaned to students to enable them to complete their studies. Today Snyder Hall, a student residence at the University, is named in his honor.
In 1869 Edward Snyder had married Mary Stoddard Patchen, also a teacher in the St. Louis area. Mrs. Snyder was an amateur botanist and avid collector of botanical specimens, particularly marine algae, and it may have been her avocation that brought the Snyders to La Jolla, in 1895, where she spent the summer collecting on the beaches of La Jolla, Pacific Beach and False (Mission) Bay. They apparently liked the area and before returning to Illinois purchased a lot in La Jolla and property in Block 214 of Pacific Beach, the block now surrounded by Morrell, Hornblend and Lamont Streets and Garnet Avenue, about a block east of the former San Diego College of Letters buildings, which were west of Lamont and north of Garnet.
The Snyders originally purchased 12 lots in the eastern portion of Block 214 (from E. C. and Rose Hartwick Thorpe, for $500) but within a year the addition of four more lots gave them ownership of the entire east end of the block. The San Diego Union reported that Professor Snyder had arranged for improvements and expected 'eventually to make his home in this charming locality'. A few weeks later, after their return home, he wrote that the weather in the east was so hot and sultry that he and his wife were 'sighing for a breath of our cool ocean breezes', according to the paper.
Professor Snyder did retire in 1896 and the Snyders wasted no time executing their retirement plan. 'Hotel Arrivals' in the June 18, 1896 Union listed Edward Snyder and wife from Champaign, Ill. at the Hotel Brewster; 'Pacific Beach Notes' for July 11 mentioned that Prof. Snyder and wife were in their cottage; on September 1 Messrs. Ash and Boughton had begun to build an eight-room cottage for Professor Snyder and on September 18 it was reported to soon be ready for occupancy. By 1897 the paper reported that he was adding another room to his home for a library. This home, at the northwest corner of Hornblend and Morrell, is still standing today.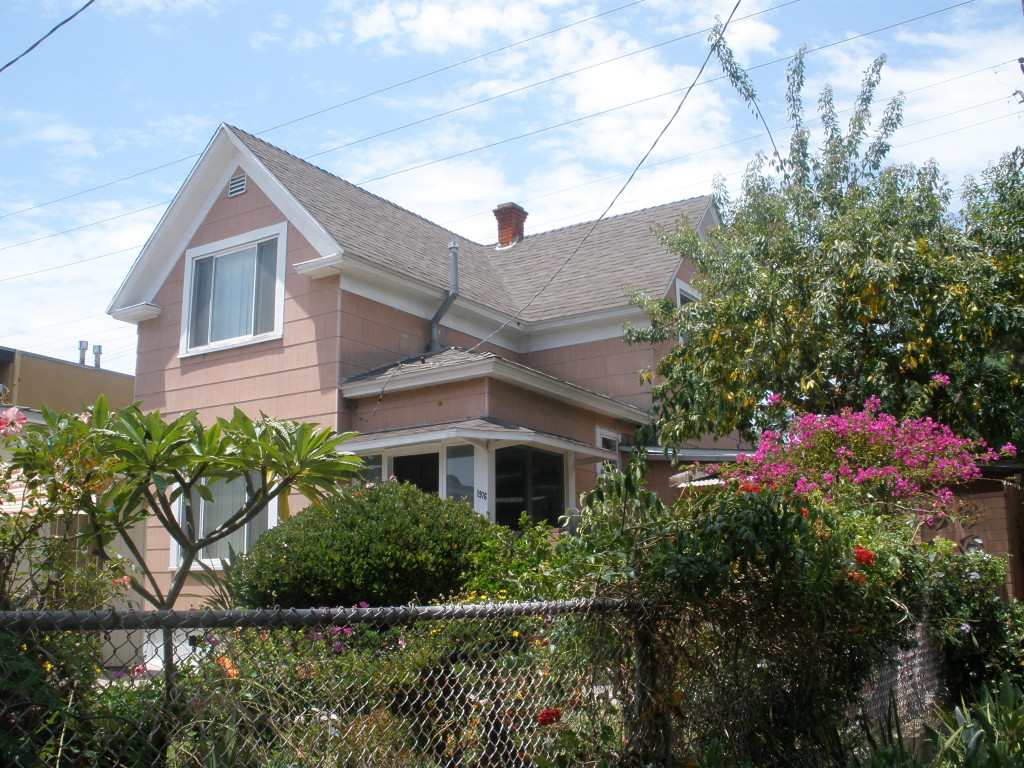 The Snyders soon became active in the social life of their new community. Mary Snyder joined the Pacific Beach Reading Club and often hosted meetings at her home. When its founder, the world-famous poet Rose Hartwick Thorpe, requested to be relieved of the presidency Mrs. Snyder was elected to take her place. She also was a member and eventually president of the Shakespeare Club.
Of course, Mary Snyder also continued collecting botanical specimens, particularly the sea weed and other marine plants that she found on the shore at Pacific Beach and La Jolla. In 1899 the San Diego Union noted that Prof. and Mrs. Snyder spent several days in La Jolla gathering sea weeds 'of which Mrs. Snyder, who is an expert botanist, has a large and valuable collection'. In 1900 they built a cottage on their La Jolla lot, on Prospect overlooking Seal Rock, where they could stay while Mrs. Snyder explored the shoreline during low tides.
Professor Snyder died in September 1903 and within a few months his widow moved to La Jolla, acquiring another house on Prospect Street and selling the property in Pacific Beach. The papers reported that she spent her time naming and classifying a collection of her specimens to be La Jolla's representative exhibit at the St. Louis World's Fair, the Louisiana Purchase Exposition of 1904, for which she reportedly won a gold medal. The following year, 1905, her exhibit of mounted sea mosses won a gold medal at the Lewis and Clark Centennial Exposition in Portland, Oregon.
Mary Snyder lived the rest of her life in La Jolla, where she again became active in civic organizations, serving as president of the Woman's Club from 1906 to 1908. In 1910 she moved to a home on Fay Avenue named Amphiroa Cottage (after a genus of thalloid alga, a sea weed), which was remodeled to include a herbarium for her collection of sea weeds and for arranging and mounting new specimens.
Through her knowledge and expertise in collecting, identifying and presenting these specimens Mary Snyder became recognized as the preeminent authority on marine algae in Southern California in the first decades of the twentieth century. When she died in 1926 at the age of 87 her collection was donated to the Scripps Institution of Oceanography and is now in the Herbarium at the San Diego Museum of Natural History in Balboa Park. The museum notes that her beautifully preserved seaweeds resemble art prints that would be suitable for framing.