In 1894 the community of Pacific Beach had been in existence for six years and was home to a few dozen families (the 1895 San Diego City Directory listed 35 names with residences in Pacific Beach). Some of these families had first been attracted to Pacific Beach by the San Diego College of Letters, San Diego's first college, which opened in 1888 on a campus near the community's center that is now the site of Pacific Plaza. Rose Hartwick Thorpe was a world-renowned poet who had come to help establish the college (and whose daughter Lulo had been a student), and the Barnes, Rowe, Thresher and Cogswell families had also established residences near the college campus where their children studied.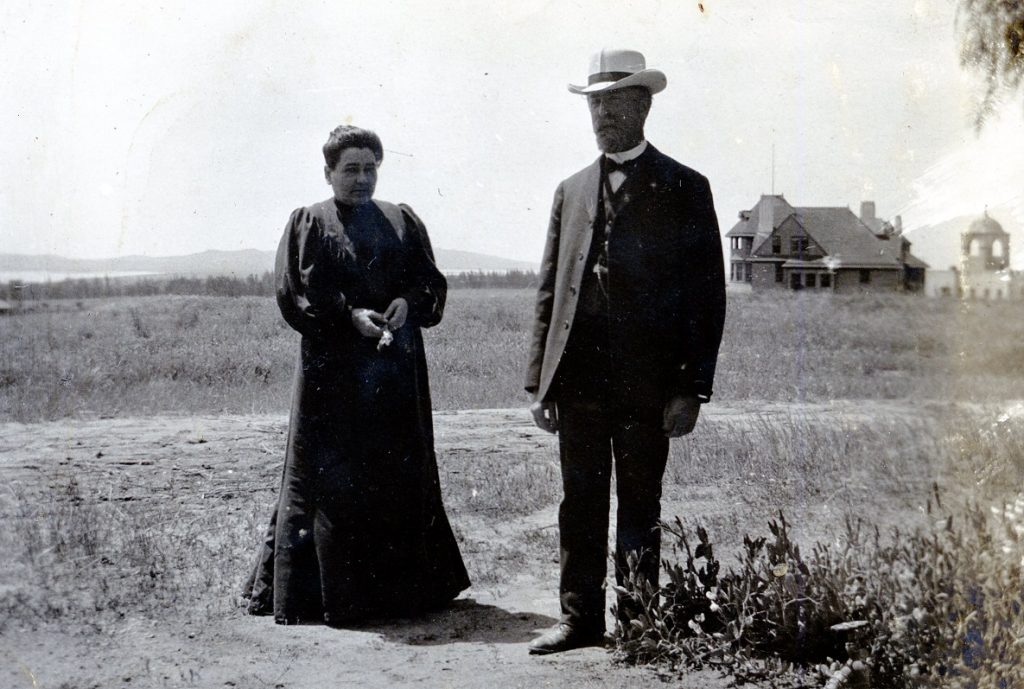 The college closed in 1891 but these families chose to remain in Pacific Beach where they found that their land was well adapted to 'fruit culture for profit' and began planting groves of lemon trees on their properties. The Pacific Beach Company, which had founded the community in 1887, encouraged this effort with an updated subdivision map creating 'acre lots' of about ten acres, suitable for small farms or ranches, in much of its undeveloped territory. After this new map was recorded in 1892 a number of these acre lots were acquired by 'easterners' and developed into lemon ranches. The Wilson and Bowers families from Tennessee jointly owned three adjacent acre lots around the intersection of Lamont and Chalcedony streets (then 11th Street and Idaho Avenue) where they set out lemon trees and built homes, one of which is still standing. Other newcomers, including the Honeycutt, Dammond and Ash families, acquired undeveloped residential blocks near the former college campus and turned them into lemon ranches.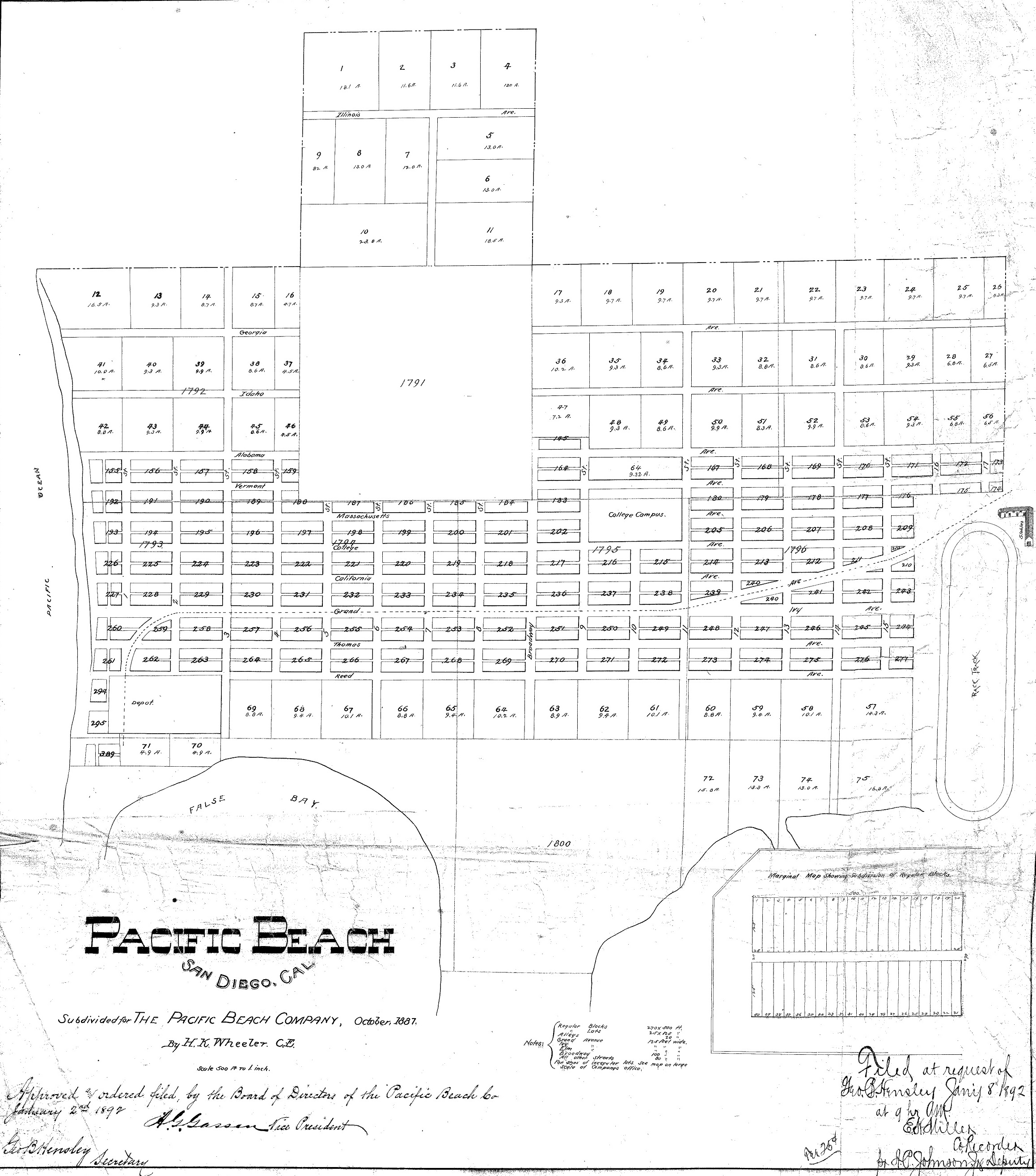 For the former college students wishing to continue their educations the only option at the time was the Russ School, now San Diego High School, which they could reach with a half-hour train ride from Pacific Beach and a mile walk from the downtown station of the San Diego, Old Town & Pacific Beach railway. Several of the former college students did commute to the Russ School and Theodore Barnes and Evangeline Rowe, who lived on neighboring lemon ranches in Pacific Beach, were in the graduating class in 1894. These students made the news on Washington's birthday, February 22, 1894, when the San Diego Union reported on special exercises conducted at the high school under the direction of Professor Davidson (who had been one of the founders and a professor at the College of Letters and was then principal of the Russ School). The highlight of the program was a debate; Resolved, that Washington was a greater general than statesman, featuring Theo. Barnes for the affirmative and Evangeline Rowe for the negative. According to the Union, the arguments were well chosen, showing careful and accurate historical research, and were generally well delivered, reflecting much credit on the young speakers (the debate was decided in the affirmative). A second debate – Resolved, that George Washington did not cut down the cherry tree – being of a lighter nature and calculated rather to amuse than instruct, was also decided in the affirmative.
Grammar school students attended the Pacific Beach school, which was then located at the northeast corner of Hornblend Street (then California Avenue) and Everts (5th) Street. In June 1894 the Union reported that a fine large flag secured through the efforts of G.H. Corey and F.W. Barnes had been presented to the Pacific Beach school by Charles W. Fairchild and formally received by the school superintendent. Rose Hartwick Thorpe, 'the famous poetess', was present and read an original poem of five verses appropriate to the occasion (about 24 students of all ages attended the one-room schoolhouse where they were taught by Miss Ella Waitneight). In addition to being a student at the school Charles Fairfield, 12 years old at the time, may have been the school janitor, a position he had applied for the previous year. George H. Corey was the husband of Martha Dunn Corey, the first physician in Pacific Beach. She was the owner of acre lot 19, west of Lamont and north of Beryl Street (then Georgia Avenue), across Beryl from the Bowers ranch on acre lot 34. Franklin W. Barnes and his wife Phoebe lived on a lemon ranch on acre lot 64, between Emerald and Diamond (then Vermont and Alabama avenues), Jewell (9th) and Lamont streets. The Barnes family, which included sons Theodore and Edward (another former college student) and daughter Mary, lived in a home at the corner of Lamont and Emerald.
Pacific Beach acre lots were still selling in 1894 and the Union noted in March that Frank J. Marshall of Kansas City had bought two ten-acre lots. He had plowed, piped and planted 1400 lemon trees, 200 prune trees, also orange, peach, pear and apricot trees and a hedge of Monterrey cypress would also be set all around his land (as a windbreak). Mr. Marshall would return to Kansas City but planned to return to Pacific Beach in the fall with his brother and both would build a handsome residence. During his absence Ed Barnes would have charge of the ranch, which was on acre lots 30 and 53, between Diamond and Beryl and east of Olney (14th) streets.
Another note from Pacific Beach in July 1894 reported that Mr. Thorpe and Mr. Honeycutt had their houses freshly painted, Mr. Rutherford had completed threshing his grain and would bale the straw for hay, Miss Pearl Wagner from the city was spending a few days with Miss Mabel Rowe, and there would be an entertainment at the college building under the auspices of the Woman's Aid Society for the purpose of paying insurance on the church. Also, orchard owners were beginning to realize the benefit of windbreaks and some were building high lath fences and individual windbreaks as protection for their young trees while the cypress hedges were growing. Not all the trees in Pacific Beach were lemons; this note added that other trees were loaded with apricots, peaches, plums, etc. and it was thought that there would be all the deciduous fruit needed by the residents this year. And delegates from some families benefiting from the reservoir contributed two days' work to stopping the leakage and otherwise protecting the water stored there.
Mr. Thorpe was Rose Hartwick Thorpe's husband Edmond C. Thorpe, a building contractor who had completed construction of their house on block 167, between Emerald, Lamont, Diamond, Morrell (13th) streets with a fresh coat of paint (the Thorpe house burned to the ground in 1957). Sterling and Nancy Honeycutt had turned the four blocks surrounded by Grand and Garnet avenues and Jewell and Lamont streets into a lemon ranch in 1893 and in February 1894 had purchased the northwest quarter of block 214, across Lamont from their lemon ranch. The Honeycutts lived in the University Heights area of San Diego but stayed at a house on this new property when visiting Pacific Beach to manage their lemon ranch. That house, at the southeast corner of Garnet and Lamont and painted in 1894, remained standing until 1954.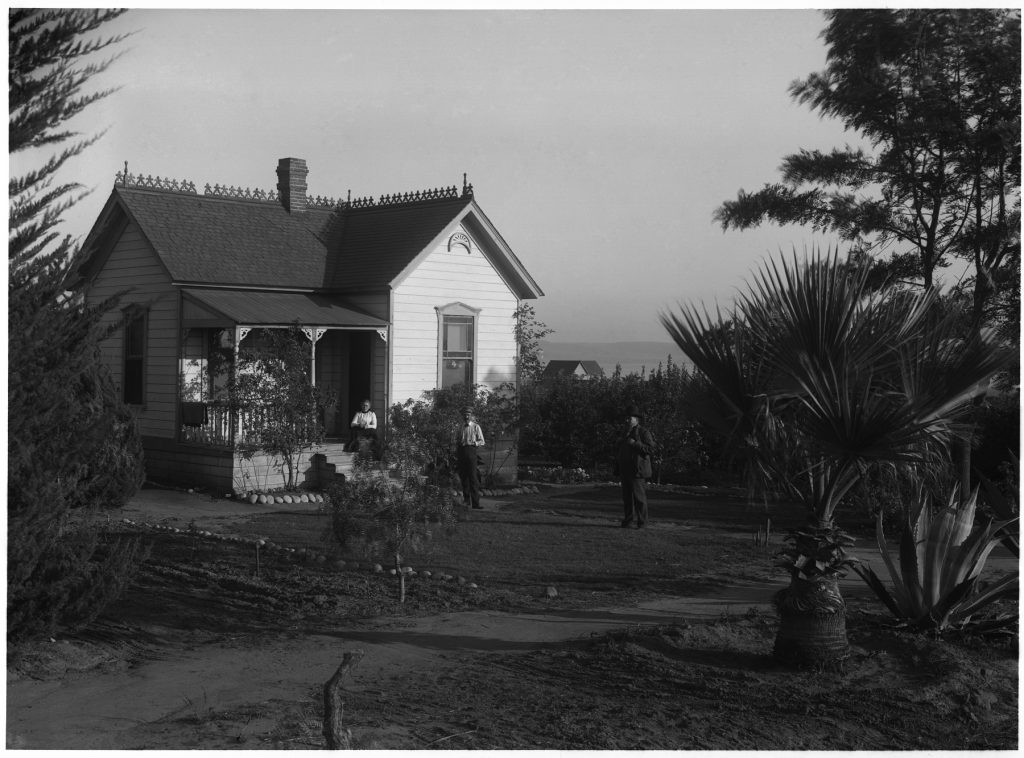 Phil Rutherford did not own property in Pacific Beach at the time but he did rent large sections of the mostly vacant land to plant and harvest grain (the Union had reported in October 1893 that he also rented over 1000 acres in San Marcos and would put it in grain for the coming season). Pearl Wagner was the daughter of Harr Wagner, the prime mover behind the College of Letters. When the college closed the Wagner family had moved back to San Diego, where Mr. Wagner was elected Superintendent of Schools in 1891. Pearl was paying a visit to her former college classmate Mabel Rowe.

Although the college had closed, the college buildings remained and were used for 'entertainments' and other community activities. The original college building built in 1888 was a three-story structure which included 'sleeping rooms' for faculty and female students as well as offices and classrooms (male students lived in the 'boy's dormitory' at the northeast corner of Lamont and Hornblend streets). In 1890 a second building was built next to the first, at the head of Kendall (10th) Street. Financed by Oliver Stough, majority shareholder of the Pacific Beach Company, it was known as Stough Hall. The college campus property had been foreclosed on after the college failed but the deed had passed to Stough after a sheriff's auction at the courthouse door in 1892 and he made the buildings available to the public (they were demolished in 1958 to make way for Pacific Plaza). The community church requiring insurance was kitty-corner from the college campus at the southwest corner of Garnet (then College) Avenue and Jewell Street, the same location as today's Presbyterian church built in 1941, and the Ladies Aid Society sponsored events to raise money for it.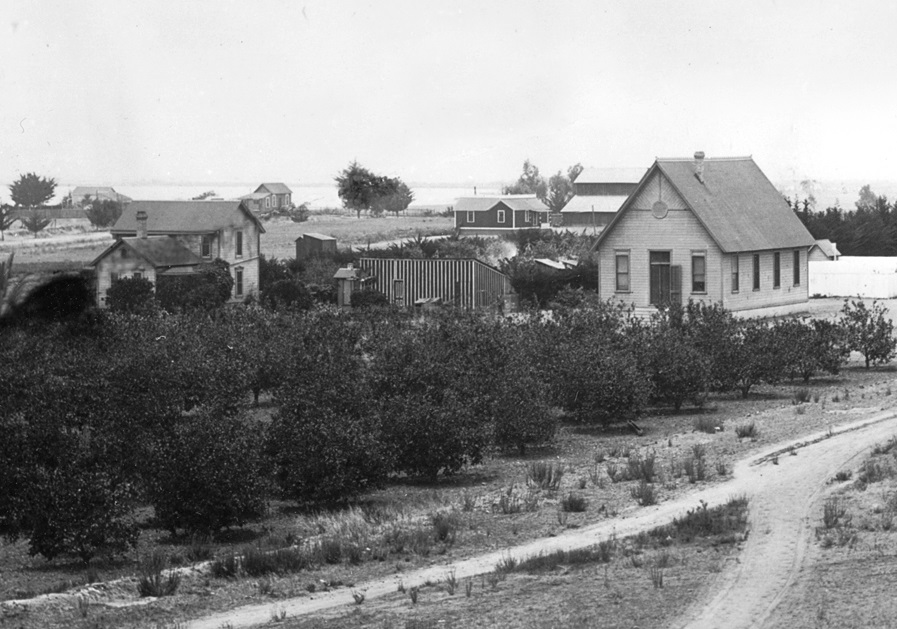 In 1893 the Pacific Beach Company had run a four-inch pipeline from the end of city water main at about Lamont and Chalcedony streets further up the hill to its 2,200,000 gallon reservoir located at the highest point in the subdivision. 'Those benefitting from the reservoir' would have been residents living above the level of the city main who would have depended on the water stored in the reservoir (the Pacific Beach reservoir was replaced by the housing development on Gordon Lane off present-day Los Altos Road about 2020, after having been inactive for decades). In its early years, before it was lined with cement, the reservoir required frequent service to manage leakage, and apparently relied at times on volunteer labor.
The Woman's Aid Society's entertainment at the college building had netted $12, more than the $9 required to pay the insurance on the church, according to the Union's Pacific Beach notes for July 25, 1894. Trees were making a fine growth and it was hoped that the windbreaks in course of building would prevent a 'repetition of last year's discouragement'. In social news, a party of young people, accompanied by a few older ones, enjoyed bathing in the surf and there was an ice cream party at Mrs. Fairfield's. In the health report Bennie Bowers was in Los Angeles receiving medical treatment and Rufus Martin was quite ill. Bennie Bowers was the 17-year-old son of G.M.D. Bowers of the Wilson and Bowers lemon ranch (the Bowers family home is still standing at 1860 Law Street). Twenty-two-year-old Rufus Martin's father John T. Martin owned a lemon ranch in block 179, between Morrell, Emerald, Felspar and Noyes (14th) streets.
Ice cream and surf bathing were again topics of the August 13, 1894, notes from Pacific Beach. There was an ice cream party at Mrs. Rowe's on Wednesday evening and on Friday the young people went to Rose Canyon on a picnic at which ice cream was served with lunch. On Monday evening an ice-cream party was given to Theodore Barnes' young friends at his home. They parted with him with expressions of sincere regret and he would be sadly missed in their circle (he sailed for San Francisco Tuesday morning on the steamer Mexico to attend the university at Berkeley). On Saturday several wagon and carriage loads of young people, together with a few older ones, went surf bathing. Also, Mr. Haight and family, who had been 'camping' on their ten-acre ranch during the summer, were preparing to return to Redlands for the winter. The Haight ranch was on acre lot 36, between Chalcedony, Jewell, Beryl and Ingraham (then called Broadway; at 100 feet it was wider than the standard 80-foot width of Pacific Beach streets).
In other news, Mr. Corey was having the Will Wagner house repaired and an addition built. Will J. Wagner had been a 'breeder of fancy chickens' and his house was on the north side of Diamond Street between Noyes and Olney (the address would be 2162 Diamond today), down the block from the house built for his younger brother Harr while Harr Wagner was leading the effort to establish the College of Letters (and which is still standing at 2104 Diamond). When Harr Wagner moved back to San Diego in 1891 the Wagner brothers' youngest sister Jennie Havice and her husband George had moved into his former home while the Havices developed a lemon ranch on block 213, between Garnet Avenue and Noyes, Hornblend and Morrell streets (in 1891 there was nothing but vacant land in the three blocks between Garnet and Diamond and their ranch was said to be 'opposite the Harr Wagner place').
Will Wagner moved to Los Angeles about 1893, where the 1900 census listed him as a chicken dealer. Mr. Corey was maintaining the Will Wagner house because his wife's sister Elizabeth Dunn had purchased most of that block (block 140), including the two houses, from Harr Wagner in April 1894. Elizabeth Dunn never did take up residence in Pacific Beach and in 1905 she transferred the property in block 140 to her sister Martha Dunn Corey (the Coreys had divorced in 1899). There was also another Wagner brother, Rev. Dr. E. R. Wagner, who had been professor of German at the College of Letters and then became pastor of the First Lutheran Church in San Diego. He made news in 1890 when he conducted a double wedding, first marrying Flora Hieber and Thomas Carrol while her mother Mrs. Ella Heiber and Will Wagner stood with them, then 'the couples changed places' with the newlyweds acting as bridesmaid and best man and Rev. Wagner married them too, with Harr Wagner and Jennie Havice also in attendance at the ceremony.
A note from Pacific Beach a week later, August 22, added that the trees were beginning to need irrigation, Mr. Fairfield went to Los Angeles, and the Christian Endeavor Society met at the church to arrange for a series of entertainments for the purpose of paying off the old church debt. Also, E. C. Thorpe was building a barn with four gables on his 5-acre tract and Mr. Ash was steadily improving his 5-acre tract east of the college grounds. On the map these 'five-acre tracts' were actually city blocks, two rows of 20 25-by-125-foot lots separated by a 20-foot alley and surrounded by 80-foot-wide streets, totaling about 2 1/3 acres. Counting public property in the central alley and the surrounding streets, which were generally unmarked and unused, the owner of a Pacific Beach block might have the use of about 5 acres. Mr. Thorpe's four-gable barn appears in a photo taken a few years later which also shows his house (and his grand-daughter) in block 167. William Ash lived with his wife Rebecca and son William on block 205, between Garnet Avenue and Felspar Street (then Massachusetts Avenue), just across Lamont from the college campus.
School opened on Monday with good attendance, according to the note from Pacific Beach on September 12; 'Miss Waitneight has charge of the school again this year to the entire satisfaction of parents and pupils'. Dr. Martha Dunn Corey had several patients at La Jolla whom she had been visiting two or three times each week for some time. Dr. Cogswell and family contemplated moving into the city where they would remain during the rainy season and Mrs. Thresher was also looking for a house in the city; 'The short days and anticipated rains made it unpleasant living so far from school and business'. Dr. Cogswell's dental practice was in the Bon Ton Block at Sixth Avenue (then Sixth Street) and Broadway (then D Street) downtown, Mrs. Thresher was a stenographer at the county clerk's office and her daughter Marian attended the Russ School; they would have taken the train to school and business.
The Union noted on September 22, 1894, that George Havice and wife were rejoicing over the safe arrival of a son, and this new addition to the residents of Pacific Beach was heartily welcomed by all. Also, Mrs. Thresher was having repairs and improvements made on her place and the Woman's Aid society held another entertainment after which cake and lemonade were served. All this for a dime to adults and five cents to children and the proceeds amounted to nearly seven dollars. And the people of this place, young and old, still kept up the practice of surf bathing every Saturday afternoon. The two or three who had unpleasant encounters with stingarees were as eager as any; 'There is a fascination about surf bathing in large parties that is simply irresistible'. Capt. Wilson was about returning to Tennessee to look after business interests and it was rumored that his family would follow him some time in December for a protracted visit (the Wilsons lived on acre lot 33; their former ranch house was razed in 1947 but the Moreton Bay fig tree which once shaded it is still growing at 1922 Law Street).
More comings and goings of residents in Pacific Beach was noted on October 17, 1894. The Robertsons had moved into the hotel building and the Scott brothers took a 'lively interest in whatever promotes the best welfare of the place'. Mr. Kyle's mother and sister were coming from Scotland and Mrs. Ash's parents and sister were contemplating coming to spend the winter with her. Rufus Martin was going to Los Angeles in search of employment and Misses Mabel and Evangeline Rowe were going there for the purpose of continuing their education. In addition, the reservoir was dry and those living on the higher lands were out of water a good part of the time. Mail delivery had changed from 9 o'clock to 2:30 and a good program was rendered at the young people's entertainment held at Stough Hall on Friday evening where cake and lemonade were served at the conclusion of the literary exercises; 'These entertainments are gaining in favor and reputation'.
Thomas Robertson was an engineer for the railroad which ran between San Diego and Pacific Beach, and which had been extended to La Jolla in the first months of 1894. The hotel was the Hotel del Pacific, built by the Pacific Beach Company in 1888 at the foot of Grand Avenue near the railroad's depot and the beach. The hotel had not been a commercial success, especially since the newly extended San Diego, Pacific Beach & La Jolla railway allowed passengers to bypass it in favor of the fancier hotel further up the line. It was apparently being made available for longer term residents like Thomas and True Robertson and their two children, although the Robertsons soon moved on to La Jolla after the railway re-established its base of operations there. Mr. Robertson was still driving trains in 1908 when his engine derailed and overturned in Middletown, killing him and his fireman in what was the only fatal accident in the railroad's history.
The Scott brothers, Theophilous, Frances, Harold and Henry were lemon ranchers on acre lot 35, between Chalcedony and Beryl streets, west of the Wilson and Bowers ranch and north of the Cogswell ranch. William Kyle's mother and sister, both named Margaret, would return to Scotland but both later emigrated to Pacific Beach where his sister and her husband Alfred Roxburgh become lemon ranchers in 1899.
Another Pacific Beach Notes column arrived on November 6, 1894. Halloween had been celebrated by a party of young folks at Mr. Barnes', Mr. Thorpe had contracted to build two or three cottages at La Jolla and Frank Hurlburt was at work on the cottages in course of erection there (Frank Hurlburt was a Pacific Beach carpenter who was employed building houses, presumably including some of those Mr. Thorpe had contracted to build). Theodore Barnes was interested in study and recreation at Berkeley university (i.e., the University of California); 'He has already become favorably identified with some of the athletic sports connected with that institution'. A son was born to Mr. and Mrs. Gibbs (the San Diego city directory listed E. M. Gibbs as a laborer residing in Pacific Beach and in 1894 the family already had a son and three daughters). There was also a meeting of the Woman's Aid society at church and the young people had organized a dramatic club for the purpose of giving a series of entertainments.
In a note from Pacific Beach on November 15 the trees were making a fine growth, Mrs. Gridley had received word that her husband had been obliged to give up his employment on account of poor health (he had gone to join his brother in Buffalo, NY, in June), a number of young people were preparing for a moonlight ride to Roseville and the meeting at the Christian Endeavor on Sunday evening was very interesting. Best of all, the pumpkin social under the auspices of the Woman's Aid Society at the college building on Friday evening had been a novel and most enjoyable entertainment. The maids and matrons who served the guests to generous triangles of golden pumpkin pie and English tea wore coquettish little head-dresses of orange puffs and bows of orange ribbon and white aprons decorated with orange ribbons. The literatary feature of the evening consisted of songs and recitations on 'The Pumpkin'. The receipts of the evening lessened the church debt by several dollars.
On December 1 the Pacific Beach report was that Mrs. Gleason had the first olives grown at this place, Rev. Furneaux preached the Thanksgiving sermon on Sunday, Mrs. Dick at Eureka Lemon Tract had a little daughter born a few days ago, the young people met at Miss Thorpe's home on Friday evening to arrange for a Christmas entertainment and Mr. Thorpe had a young pear tree, eighteen months from the nursery, that matured twenty-three large pears of excellent flavor this season. Also there was some talk of cementing the reservoir. There has been so much water wasted that is has been shut off from the reservoir for several weeks and trouble had been experienced in irrigating the high lands. Mr. Kyle had been employed by the new daily paper in San Diego and would reside in the city after the 1st of December. The notes added that he had been active in assisting at getting up entertainments, in the Christian Endeavor Society and in making the social gatherings among the young people pleasurable and all regret to lose him (a month earlier the Local Intelligence column of the San Diego Union had reported that William Kyle, a subject of Queen Victoria, had declared his intention of becoming a citizen of the United States).
Fannie Gleason lived in the house next to the lumber company on the north side of Balboa Avenue between Lamont and Morrell streets that is still standing and is now a restaurant, Mamma Mia's. Rev. Hugh Furneaux was pastor of the Presbyterian Church, the community's only church at the time, which met in a wooden building on the site of the present Pacific Beach Presbyterian Church which replaced it in 1941. The Eureka Lemon Tract was a subdivision east of what is now Mission Bay Drive, then the right of way of the Pacific Beach railway. It extended for about half a mile along what are now Brandywine, Bunker Hill and Ticonderoga streets. Robert and Christina Dick owned lots 6 and 28 of Eureka Lemon Tract, about 12 acres between the tracks of the Pacific Beach and California Southern (Santa Fe) railroads and south of what is now Garnet Avenue. Their little daughter, Mary Minerva Dick, was born on November 24 and delivered by Dr. Martha Dunn Corey.
The Union's last note from Pacific Beach for 1894, published on December 22, announced that there was no Sunday mail and that the mail was now carried on the motor (i.e., the steam trains of the San Diego, Pacific Beach & La Jolla railway). Mrs. Ash's father, mother and young sister had just arrived at her home from the east to spend the winter. Theodore Barnes, attending the State University at Berkeley, won a diamond-set medal valued at $75 at a foot race in San Francisco. The young people gave Miss Cogswell a surprise party on Thanksgiving evening and the next day participated in a candy pull at the Wilson's. Mr. Shigley's horses had become frightened while cultivating and ran away, up on the high trestle bridge near the old mail-catcher, where the cultivator catching in the rails threw the horses to the ground some twelve or fifteen feet below. They escaped serious injury.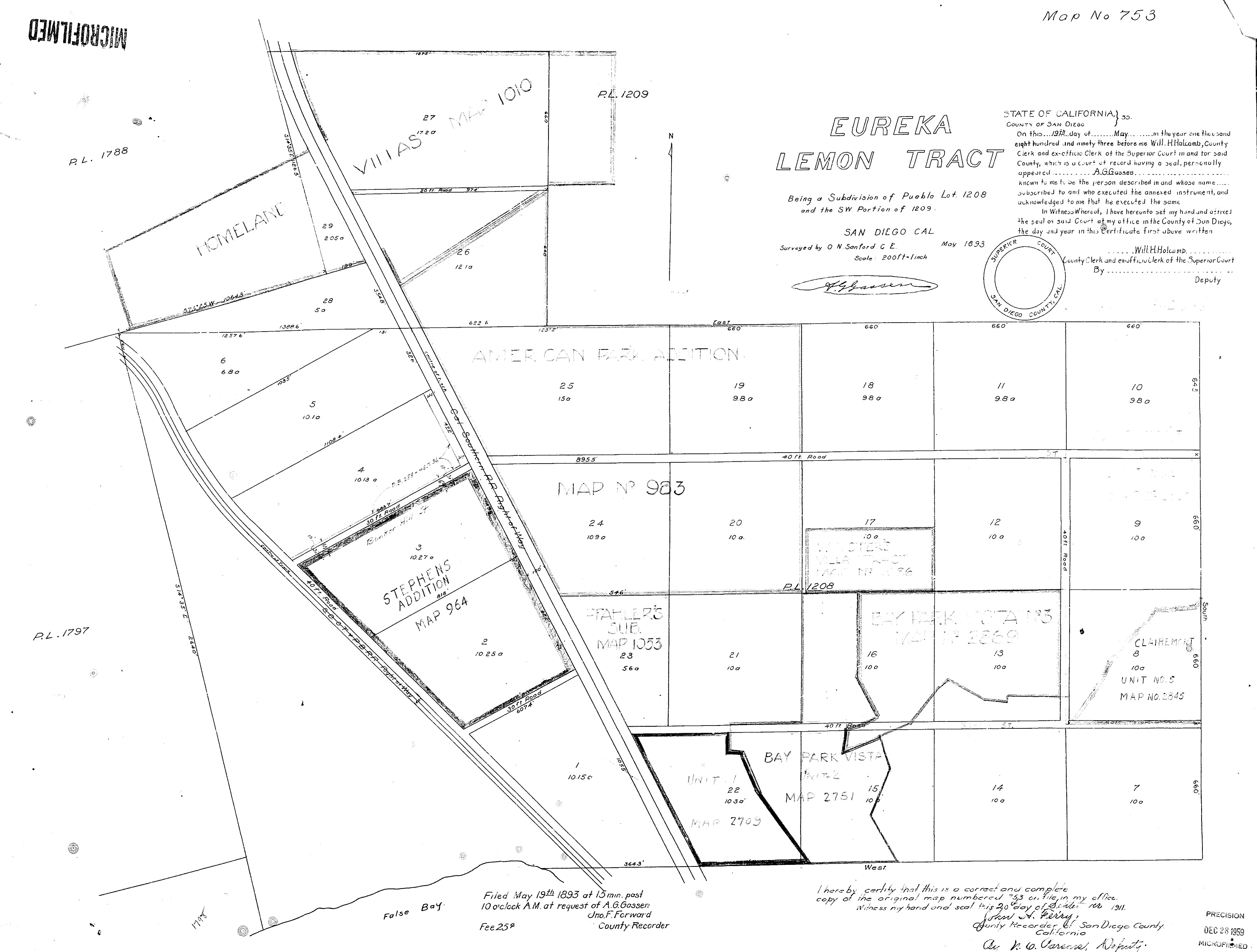 Jefferson Shigley was another rancher with property in the Eureka Lemon Tract. His ranch was on lot 5, south of the Dick ranch and between the Pacific Beach and the California Southern (Santa Fe) railway lines, about where Mossy Toyota is now. The high trestle would have been an early version of the bridge which now carries the Coaster over Garnet/Balboa Avenue at the foot of the grade leading up to Clairemont. Apparently there was still a 'mail-catcher' near the bridge, actually a 'mail crane', where the local postmaster could hang a 'catcher pouch' containing mail to be delivered up the line. A mail clerk on a passing train could deploy the train's 'mail-catcher' arm to snatch the pouch hanging from the crane and swing it inside the mail car to begin sorting the mail (the clerk might also kick out a pouch of mail to be picked up and delivered by the local post office). Mr. Shigley's property was adjacent to the 'high trestle' on the railway line and when his horses ran up on the bridge the cultivator they were pulling got tangled up with the rails and they fell off.
1894 had been a good year in Pacific Beach; trees of all kinds were 'making a fine growth', including 1400 more lemon trees on two more lemon ranches established by another easterner on its acre lots. Windbreaks of cypress trees were going up around the acre lots to protect the young fruit trees. Families grew too, with the Havice, Gibbs and Dick families each adding a member. Two Pacific Beach residents (former students at the defunct college) were among the 28 graduates of San Diego's high school in 1894. They departed at the end of summer to continue their education at out-of-town institutions, but not before enjoying surf bathing, ice cream parties and 'entertainments' in their hometown.
History would continue to be made in 1895; two prominent pioneer families would be united when one's son and the other's daughter, both former college students, got married and started a family (and lemon ranch) of their own. The easterners who had developed some of the first ranches would sell out (at a handsome profit) and return home, but more would arrive to take their places and continue to advance lemon ranching in Pacific Beach. And 'cultured ladies' meeting in their ranch houses would organize the Pacific Beach Reading Club, since renamed the Woman's Club and still in operation.
To be continued. . .