Pacific Beach had been founded in 1887 by the Pacific Beach Company, a syndicate of wealthy bankers and real estate operators from San Diego who purchased the vacant land north of what was then called False Bay, drew up a subdivision map and began selling lots. A four-block parcel near the center of the Pacific Beach subdivision, now the site of Pacific Plaza, was designated the 'college campus' and donated to the San Diego College of Letters, San Diego's first college. The college was headed by Harr Wagner, editor of the San Diego literary magazine Golden Era, who attracted other literary figures including the world-renowned poet Rose Hartwick Thorpe to Pacific Beach to join him.

The college opened in 1888 but struggled financially and closed in 1891. Most of the academic community moved away, including Mr. Wagner, who moved back to the city. Those that remained, including Mrs. Thorpe and her family, found that their land was well adapted to 'fruit culture for profit' and began planting groves of lemon trees on their properties. To encourage this development the Pacific Beach Company issued a new subdivision map in January 1892 in which much of the tract was divided into 'acre lots' of about ten acres each, intended for agricultural uses. By the end of 1892 many of these lots, particularly those in the vicinity of the college campus, had been acquired by 'easterners' and developed as lemon ranches.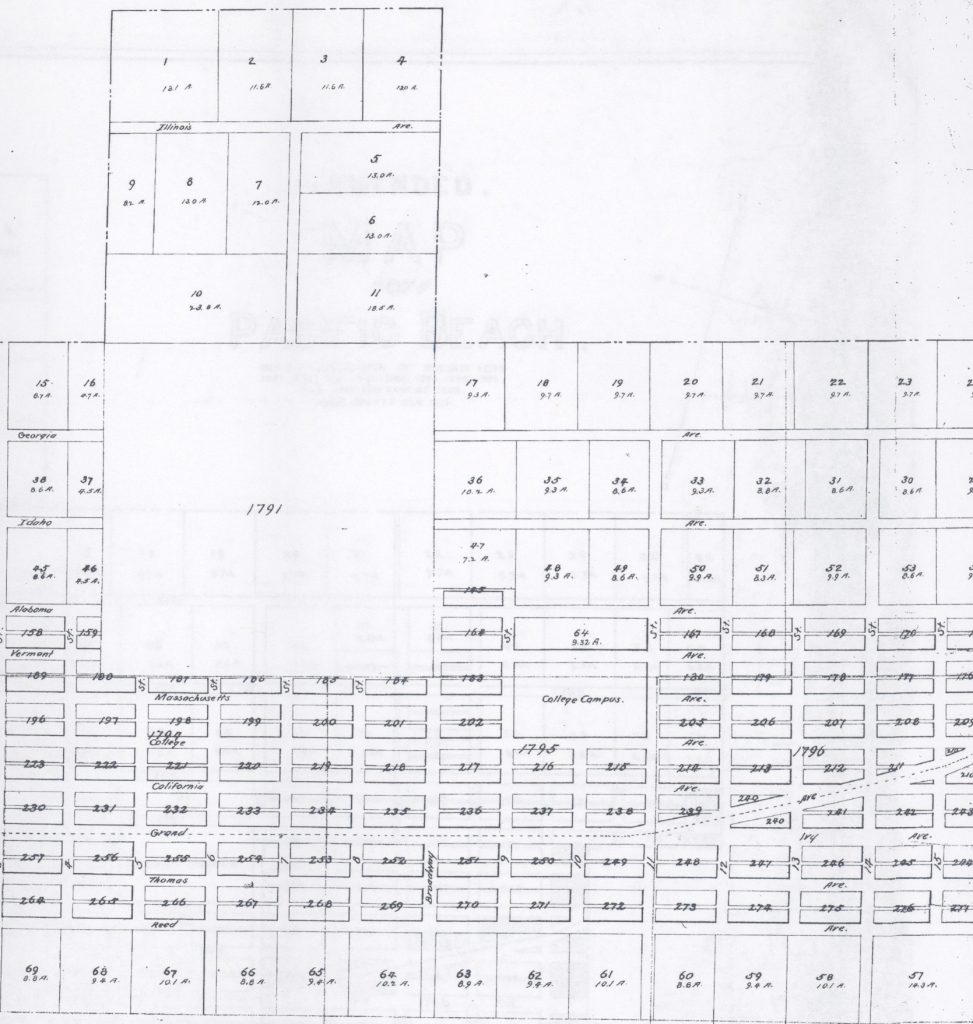 The San Diego Union kept its readers informed about events in outlying suburbs like Pacific Beach with 'notes' about the comings and goings of prominent residents and their families, their health and, especially, their social activities. In 1893 these Pacific Beach notes began with an article in the March 12 edition about a 'Double Birthday Party', a social activity that brought together many of the families then living in the vicinity of the college campus, most of them lemon ranchers.
According to the Union, the young people of Pacific Beach had spent a most enjoyable evening at a party given by Mrs. Rowe and Mrs. Barnes to their daughters Miss Evangeline Rowe and Miss Mary Barnes on the occasion of their joint birthday party. The birthday party was at the residence of F. W. Barnes and the parlors and hallway were tastefully decorated with callas and ropes of smilax while maiden-hair ferns, roses and many other flowers filled the pleasant rooms with fragrance and beauty. Miss Rowe and Miss Barnes in their soft pink gowns with fern ornaments were like two rosebuds in their fresh girlish beauty. Miss Mary Cogswell, Miss Annie Bell Wilson and Miss Eddie Sue Bowers wore dainty costumes of cream color while Miss Jessie Fairfield was lovely in dark red and pale blue. Miss Lulo Thorpe and Miss Mabel Rowe were most becomingly dressed in black and Miss Marian Thresher in brown and white and Miss Nellie Rowe in pink. The gentlemen present included Messrs. E. Y. Barnes, Theodore Barnes, Fairfield, Rowe, Wilson, Bowers, and Colvin. 'The daintiest of refreshments were served in an unconventional manner, after which several novel games were introduced, and the evening's pleasures far excelled any social events occurring at Pacific Beach'.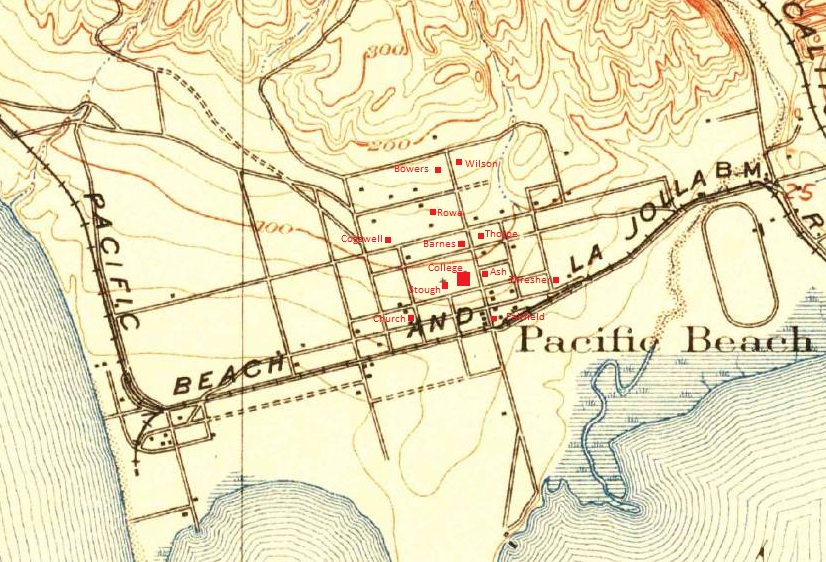 Mrs. Mary Rowe and Mrs. Phoebe Barnes were among those that the college had attracted to Pacific Beach and who remained after the college closed. The Barnes family owned a lemon ranch on acre lot 64, 9.3 acres north of the college campus between Emerald, Diamond, Jewell and Lamont streets (then Vermont and Alabama avenues and 9th and 11th streets). Franklin W. and Phoebe Barnes' residence, the tastefully decorated setting for the party, was at the southeast corner of the ranch, the northwest corner of Lamont and Emerald (most of their former ranch is now occupied by the Plaza condominium community and the site of their former home is its parking structure off Lamont Street). Their sons Edward (E.Y.) and Theodore, 20 and 17 years old in 1893, had been students at the college while Mary Barnes, celebrating her fourteenth birthday, attended the grammar school.

Mrs. Rowe was also a lemon rancher, although her deed to acre lot 49, 8.6 acres north of the Barnes ranch between Diamond and Chalcedony streets (then Idaho Avenue) and west of Lamont, was not recorded until April 1893 (deeds were not necessarily recorded immediately after a property transfer). The Rowe family's first home in Pacific Beach had been at the foot of College (now Garnet) Avenue but in 1893 that house was moved from its beachfront location to a spot near the center of her new ranch where it stood at 1828 Missouri Street until 1957 (a lone palm tree in front of the apartment buildings that replaced it is all that remains). The Rowe family included Evangeline, who was celebrating her seventeenth birthday and her sister Mabel, 19, both former students at the college, and their younger siblings Nellie (Nellore), 14, and Percy, 12 (their father, Rev. A. D. Rowe, had died of typhoid fever in 1882 in India, where he was serving as a missionary and where the three younger children had been born).
Other former students attending the birthday party included Lulo Thorpe, 20, Mary Cogswell, 15, and Marian Thresher, 15. Lulo was the daughter of Rose Hartwick Thorpe, who in 1892 had purchased block 167, across Lamont Street from the Barnes home, about 3 acres between Lamont, Diamond, Emerald and Morrell (12th) streets where Lulo's father E.C. Thorpe, a building contractor, had built a house and planted an orchard (that house burned down in 1957 and the site is now Emerald Manor). Lulo had been appointed as a teacher by the school board in January 1893.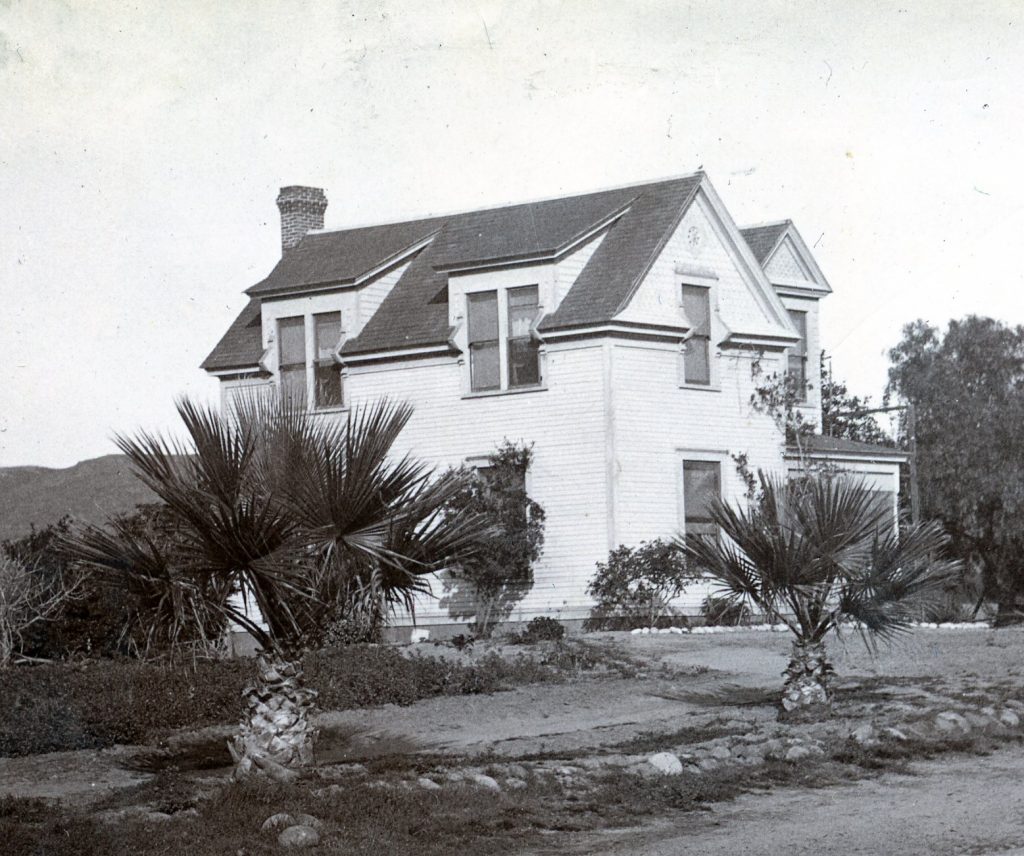 The Cogswells were also neighbors of the Barnes family. They lived in a home at the northwest corner of Jewell and Diamond streets (the home survived until 1960 and the site is now Jewell Manor). The Cogswells also owned a lemon ranch across Jewell from their home, on the west half of acre lot 48, 5 acres between Diamond and Chalcedony. In addition to raising lemons, Dr. Thomas Cogswell commuted to his downtown dentist office on the San Diego, Old Town & Pacific Beach railway which ran on Grand Avenue from a depot near the beach, stopping at the 'college station' at Lamont Street on its way around the bay to San Diego. He may have shared the ride with Evangeline Rowe and Theodore Barnes who would also have taken the train to the Russ School, now San Diego High School, where they graduated in 1894. Theodore Barnes was fullback and captain of the Russ football team; he scored the first touchdown in a 16-0 defeat of the YMCA team on Thanksgiving Day, 1893.

Marian Thresher's mother, Isabella, was a writer and contributor to Harr Wagner's Golden Era magazine who worked as a stenographer for the county clerk. The Threshers lived in a cottage at the corner of Hornblend (then California Avenue) and Noyes (13th) streets and would also have commuted to San Diego for work and school.
Other party guests included the sons and daughters of Wilson and Bowers, business partners and brothers-in-law who had been among the purchasers of Pacific Beach acre lots in 1892. R.C. Wilson and G.M.D. Bowers, Confederate veterans from Henning, Tennessee, had jointly purchased acre lots 33, 34, and 50, installed 4000 feet of water pipe and put it in lemons. The ranch house of the Bowers family, his wife Edmonia, son Bennie, 16, and daughter Eddie Sue, 13, was built in 1892 on lot 34, 8.6 acres north of the Rowe ranch between Chalcedony and Beryl Street (then Georgia Avenue) and west of Lamont (that house is still standing at 1860 Law Street, although it was moved there in 1912 from its original location about 200 feet to the southeast). Mr. Wilson's family, which included his wife (and Mr. Bowers' sister) Susie and children Annie Bell, 12, and Joe, 6, built their ranch house on acre lot 33, 9.3 acres east of Lamont between Chalcedony and Beryl (that ranch house lasted until 1947, and a Moreton Bay fig tree which once stood over it is still growing at 1922 Law Street).
Acre lot 50, 9.9 acres east of Lamont between Diamond and Chalcedony and adjacent to the Rowe and the Thorpe ranches, was also part of the Wilson and Bowers lemon ranch and in 1892 they extended their ranch by purchased the adjoining acre lot 51, 8.3 acres west of Noyes Street between Diamond and Chalcedony. Benjamin F. Colvin, who was also from Henning, Tennessee and presumably came to Pacific Beach with the Wilson and Bowers families, was 23 years old in 1893 and was also one of the guests at the double birthday party at the Barnes residence. In 1895 he bought the west half of Acre Lot 51 from Wilson and Bowers and developed it as a peach and apricot orchard and market garden. He made news in 1896 when he delivered twelve watermelons totaling 600 pounds to a fruit dealer. According to the Union the largest tipped the scales at an even 75 pounds.
Party guests Jessie Fairfield, 13, and her brother Charles, 11, were the children of J.W. Fairfield, whose Pacific Beach Lumber Company on the northeast corner of Lamont Street and Balboa Avenue had provided building materials to the early settlers of Pacific Beach. Mr. Fairfield had since sold the lumber company and was often out of town on business but Mrs. Fairfield, Margaret or Maggie, and the children lived in a cottage he had built on the property. Charles Fairfield (still 11 years old) was an applicant for the position of janitor at the Pacific Beach school in July 1893.
Although much of Pacific Beach north of the college campus had been made into acre lots suitable for ranches in 1892 other property around the campus remained subdivided as residential blocks. Most of these blocks were also undeveloped and many were also turned into lemon ranches. In May 1893 four contiguous blocks south of the campus (215, 216, 237 and 238) surrounded by Garnet and Grand avenues and Lamont and Jewell streets were purchased by Sterling and Nancy Honeycutt. East of the campus, block 180, south of the Thorpes between Lamont, Emerald, Morrell and Felspar (then Massachusetts Avenue) was purchased by Robert and Lettie Dammond and block 205, south of the Dammond ranch, between Lamont, Felspar, Morrell and Garnet, was purchased by William and Rebecca Ash. Although each of these properties was planted with lemon groves, only the Ash family took up residence on their ranch in 1893. The Union reported that Mr. Honeycutt drove out from his University Heights home nearly every morning and spent the day cultivating his lemon tract. The Dammonds remained at their home in Iowa until moving to Pacific Beach in 1896.
In 1892 the Union had reported that the existing water main on Grand Avenue had been tapped two blocks below the College of Letters and four- and six-inch pipe laid running north past the east side of the college campus and on up the hill, i.e., up Lamont from Grand to the lemon ranches around Chalcedony Street where Wilson and Bowers were installing 4000 feet of irrigation pipe. In August 1893 the Union added that the Pacific Beach Company would extend a four-inch pipeline from that point to its reservoir, which would contain 2,200,000 gallons. The reservoir was located on acre lot 6, the highest elevation in the Pacific Beach subdivision, where it remained until about 2020, although it had been inactive for many years (the site is now residential development on Gordon Lane off Los Altos Road).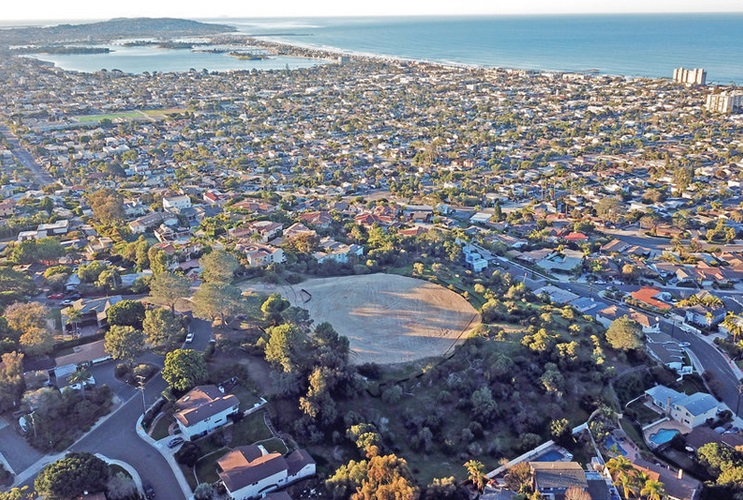 In other news about Pacific Beach, the Board of Aldermen adopted a joint resolution ordering a water trough at Eleventh (Lamont) Street and Grand Avenue, Pacific Beach. This intersection, which was also the location of the 'college station' and a grade crossing of the Pacific Beach railroad (which ran on Grand), the lumber company and a general store and post office, would have been a hub of horse-drawn vehicle traffic at the time.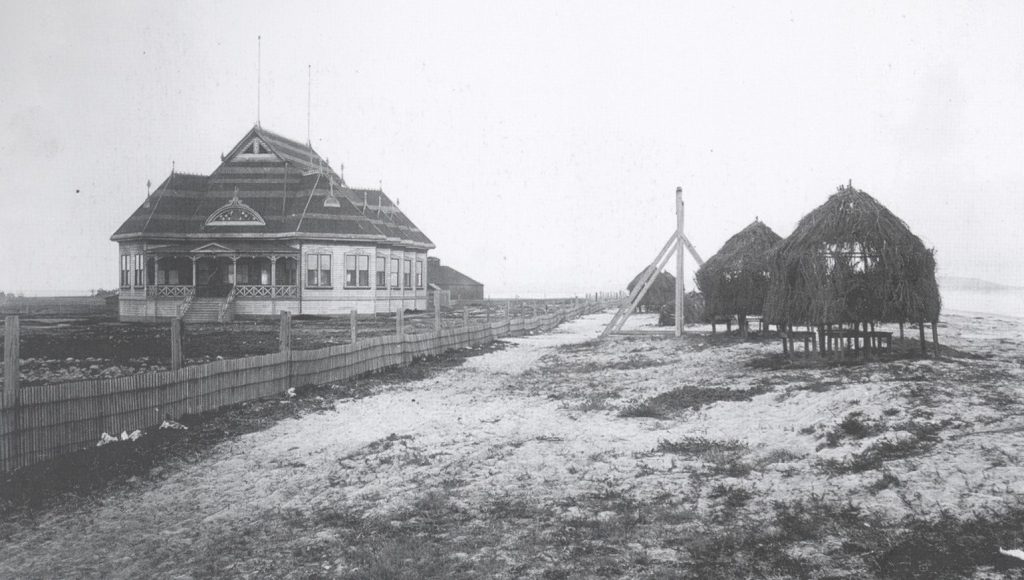 The railroad also extended to a depot near the foot of Grand Avenue, where the Pacific Beach Company had built a hotel and a pavilion overlooking the beach. The pavilion was the destination for a series of 'excursions' on the railroad during the summer of 1893. On August 6 the Union reported that the pavilion at Pacific Beach presented an unusual scene of revelry last night as fifty-two couples from San Diego, Coronado, National City and other points enjoyed the ball until a late hour. Today two excursion trains would be run to Pacific Beach and among the attractions would be music by Boeckh's orchestra and surf riding by the Hawaiian islanders. On August 8 four or five hundred persons, young and old, attended the Christian Endeavor picnic at Pacific Beach. A song service in the big pavilion, surf-bathing and other recreations made the time pass pleasantly. On August 22 the Fisher Opera House orchestra, consisting of twelve pieces under the directorship of Professor Boeckh, would give a moonlight excursion to Pacific Beach. The train would stop at Old Town to accommodate parties desiring to get on at that place. Round trip tickets, including the dance, were 25 cents.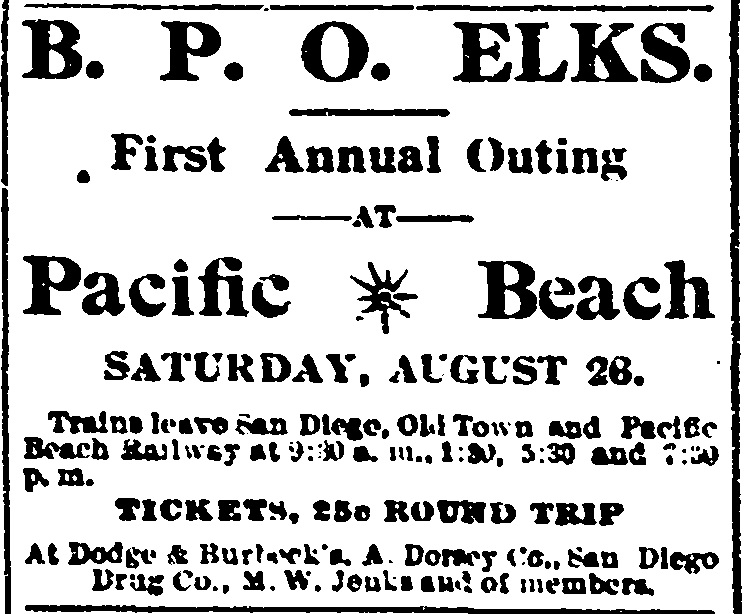 The Elks held their first annual outing at Pacific Beach on August 26. About six hundred people attended and 'all tastes were catered to'. Good music was rendered all day long, continuing during the dance in the evening. There was a street pageant, games, including climbing the greased pole and a tug of war, races, and a baseball game in which a 'committee of nine' representing city administrators met a like number of county officials 'in the open air' (the 'court house boys' beat the 'city hall nine' 16 to 8 in 5 innings). Prizes were awarded the contestants at 7:15 in the pavilion after which was held a 'social session – Good music. Good time. The password is Fun'.
The railroad depot at the foot of Grand Avenue was the end of the line for the San Diego, Old Town & Pacific Beach railway but in September 1893 the company was granted a franchise to extend the line to La Jolla. Several months would be spent securing rights of way and conducting engineering studies but construction would finally begin in March 1894 and the line would reach La Jolla by May. Back in Pacific Beach, 1894 would be noted for the continuing evolution of the lemon industry as well as surf bathing and ice cream parties. To be continued.