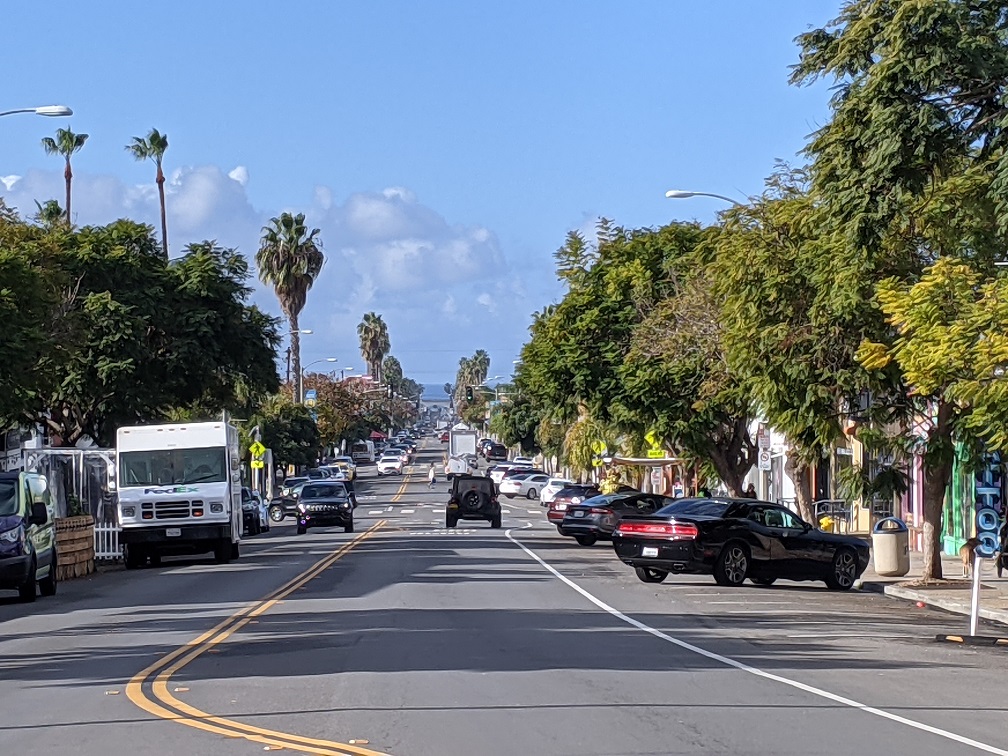 Garnet Avenue has always been the 'main street' of Pacific Beach. It began as College Avenue in 1887 when the community's founders placed the college campus they expected to become the foundation of their new subdivision on the north side of the avenue, between Jewell and Lamont streets. The San Diego College of Letters was built there in 1888, but the college failed financially and closed after a few years. In 1910 the college campus was reborn as the San Diego Army and Navy Academy, later Brown Military Academy, which finally fulfilled the founders' expectations and for several decades was the community's most important institution. Growing enrollment at the academy during the 1920s attracted commercial development to the area, including a grocery store across the street at the southeast corner of Jewell and another commercial block with a grocery, restaurant, barber, confectionary shop and the local post office at the southwest corner of Lamont.
College Avenue had been renamed Garnet in 1900 and with the proliferation of automobiles in the first decades of the twentieth century became a link in the main coast highway between San Diego, Los Angeles and points north. Paved in 1919, the coast highway passed through Pacific Beach over Garnet, Cass and Turquoise streets and continued through La Jolla to Del Mar. As traffic increased on the coast highway in the 1920s the area around the intersection of Garnet and Cass became another focus of commercial activity, centered on the Dunaway pharmacy building on the northwest corner. However, there was little development on Garnet between the 'old' Pacific Beach which had grown up around the college and academy and the 'new' Pacific Beach around Dunaway's, and little development anywhere in Pacific Beach during the depression years of the 1930s. By 1940 there were still only 75 addresses listed on Garnet Avenue in the San Diego city directory.
In 1935 Consolidated Aircraft moved to San Diego and attracted tens of thousands of workers from around the country to build B-24 Liberator bombers at its manufacturing complex near the airport (in 1941 Consolidated merged with Vultee to become Consolidated Vultee Aircraft, or Convair). The war years of the early 1940s also brought large numbers of military personnel and their families to San Diego which added to the influx of aircraft workers to create a massive housing shortage. The federal government built temporary housing projects within commuting range of Consolidated, including several in Pacific Beach, and private contractors also began building low-cost homes in Pacific Beach, including on Garnet Avenue.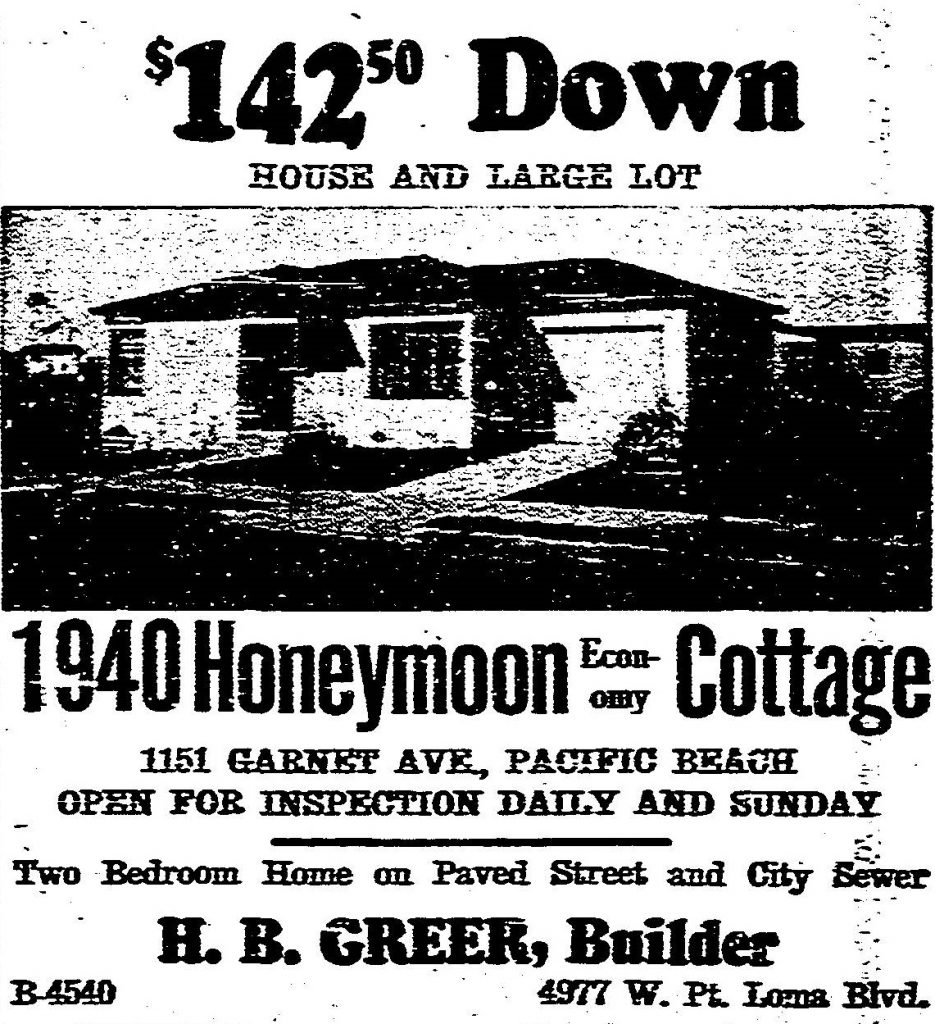 Between Dawes and Everts streets, where the only existing improvements had been Snyder's gas station at 1106 and the Pacific Beach Lumber Company at 1121 Garnet, houses were built at 1160 in 1938 and 1140 Garnet in 1939. Across the street, at 1151 Garnet, a '1940 Honeymoon Economy Cottage', described as a two-bedroom home and large lot on a paved street, was offered for $142.50 down. The houses at 1140  and 1160 Garnet are actually still there, at the back of their lots behind the storefronts on the sidewalk. Four 1-bedroom homes, built in 1946, are also still standing at 1757 – 1765 Garnet, across from what was then Brown Military Academy and is now a CVS pharmacy in Pacific Plaza. Further east on Garnet, many houses and apartments built in the 1940s and 1950s are still standing between Morrell and Pendleton streets.
However, most development along Garnet Avenue from the 1940s on has been devoted to businesses and other services for the growing number of residents moving into homes elsewhere in Pacific Beach. When the Spanish Mission-style Pacific Beach Presbyterian Church was built in 1941 at the southwest corner of Garnet and Jewell Street, replacing the community's first church, which had occupied that location since the 1880s, the San Diego Union reported that the new edifice was designed to serve a community whose population had more than doubled in the last year and a half. On the same block, at the southeast corner of Ingraham, H. C. Curtis built a masonry and stucco store and opened a grocery and meat market in 1941. In 1942 another store building was constructed diagonally across that intersection, at 1570 – 1580 Garnet. War had been declared in December 1941 and a number of items including sugar and tires were rationed to prevent shortages or increase availability for the war effort. The office of the rationing board for the Pacific Beach area was in this new building, at 1570 Garnet; the other three storefronts there began as a church, beauty shop and grocery. A nursery opened in the same block, at 1530 Garnet, in 1942.
Further west, between Dawes and Everts, the Victory Café and Victory Billiard Parlor opened in 1941 at 1159 and 1161 Garnet. Between Bayard and Cass streets two small shops, a barber at 954 and a variety store at 933 Garnet, were built in 1942. Next door to the barber, at 956 Garnet, a restaurant opened in another new building in 1944. These storefronts in the 900 block joined the Dunaway pharmacy buildings at the corner with Cass, built in the 1920s, as the only buildings on the block at that time. Other buildings built during the war years at this end of Garnet included a barber shop at 1036 and a liquor store at 1038 Garnet.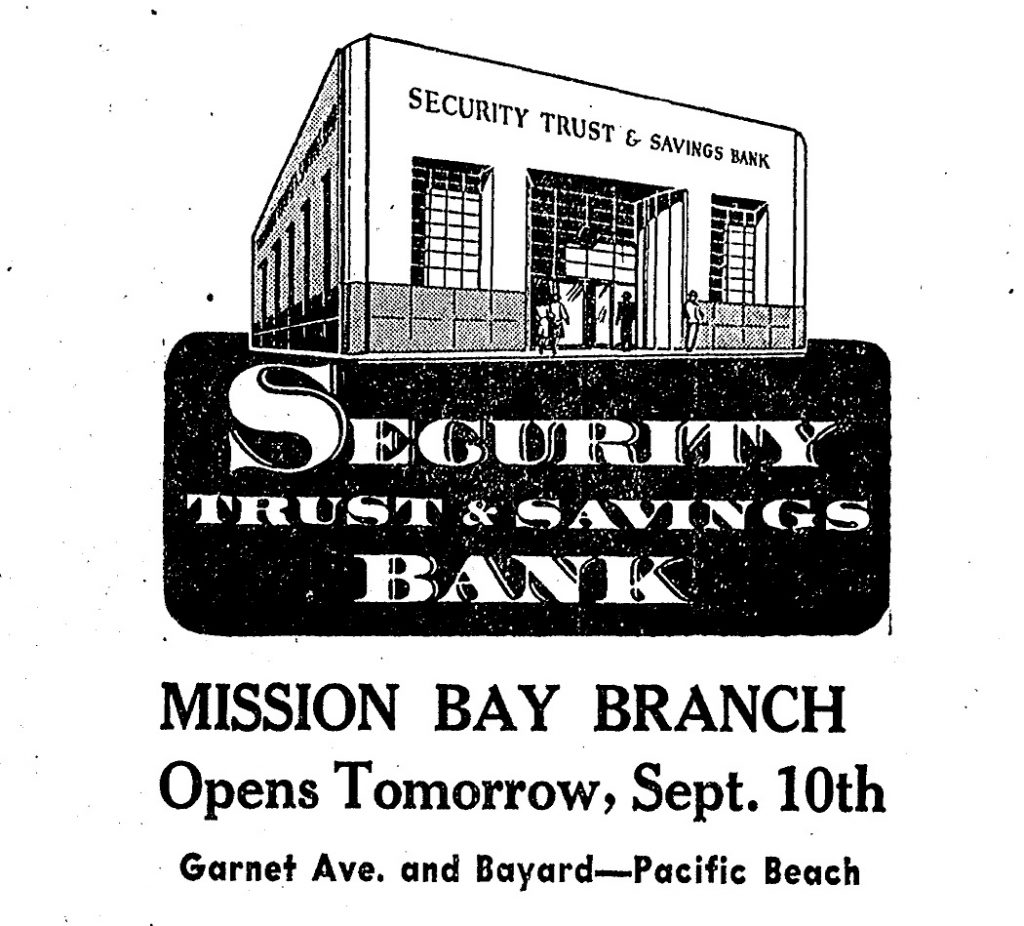 World War II ended in August 1945 and a little over a year later, in September 1946, the Mission Bay branch of the Security Trust & Savings Bank opened in an imposing building at 875 Garnet, the southwest corner of Garnet and Bayard (the original bank building is now gone and a clothing store occupies this corner today). An ad in the San Diego Union inviting residents to an open house included a message from the Pacific Beach Chamber of Commerce, 'Another Forward Step', which noted that the population of Pacific Beach had been 6000 in 1941 and had grown over the war years to over 24,000. According to the chamber, a well-planned business development had been under way since January 1945 which had given Pacific Beach close to two million dollars in business buildings and service establishments. Many more business buildings had been contracted for and would go into construction when war-time restrictions were eased. The war emergency had stopped plans for the bank but these plans were activated immediately upon cessation of hostilities.
The 1946 ad for the Security bank included a list of 23 existing Pacific Beach businesses that extended a hearty welcome and best wishes for the bank's success. All but one were on Garnet (the other was a block south, on Ingraham), and 15 had opened in new buildings along Garnet within the previous year. Seven of these new businesses were in the 1500 block, between Haines and Ingraham streets, including Pacific Beach Hardware at 1520, Academy Cleaners at 1525, Pacific Seafood at 1535, H & R Sporting Goods at 1559 and H & W Electric at 1561. Sibley's Shoes and Bonnie's Sportswear, at 1560 and 1562 Garnet, were in one of four new buildings extending along the north side of the block.
Three of the other new businesses listed in the chamber's 1946 ad were in the 1900 block of Garnet, between Lamont and Morrell streets; Les Hanson Plumbing at 1936, Henry Rigoli's real estate office at 1958, and George Brooks' real estate office at the northwest corner of Morrell, 1976 Garnet. Other stores that had opened on Garnet and welcomed the new bank in 1946 included John's food market and drug store at 1260 and 1280, Pacific Beach Auto at 1321, Western Auto at 1401 and a photography studio at 1845 Garnet, now absorbed into Broken Yolk café.
As the chamber had predicted, many more business buildings went into construction after wartime restrictions were lifted. In the first block of Garnet there had been a restaurant at 701 Garnet, the southeast corner of Ocean Boulevard since the 1920s, and in 1945 another restaurant opened on the northeast corner, at 704 Garnet. A building at 714 Garnet, built in 1947, became Bert's Place bar in 1951 and by 1952 a building in between, at 710 Garnet opened as Sleep E-Z Mattress, soon to become the Elbow Room bar.
Between Bayard and Cass the row of storefronts at 951 to 959 Garnet had been built by 1950. A jewelry store, beauty shop and liquor store were among the early tenants. Across the street, Ted Schiller's camera store and a furniture store had opened at 936 and 930 Garnet. The store at 930 was demolished to make way for a Bank of America parking lot in 1979 but the store that had been Ted Schiller's is still there.
In the 1000 block of Garnet Malanga Shoe Repair and Malanga Dry Cleaner opened at 1029 and 1031 Garnet in 1948 and in 1949 another pair of buildings went up next door, Bryan's Paint and a photo supply store at 1035 and 1037 and women's clothing, shoes and a paint supply store at 1041 to 1045 Garnet. Also in 1949 a medical arts building with two physicians and a dentist went up at 1050 and a barber shop opened next door at 1058 Garnet.  A Western Union telegraph office occupied the building at 1059 Garnet by 1950.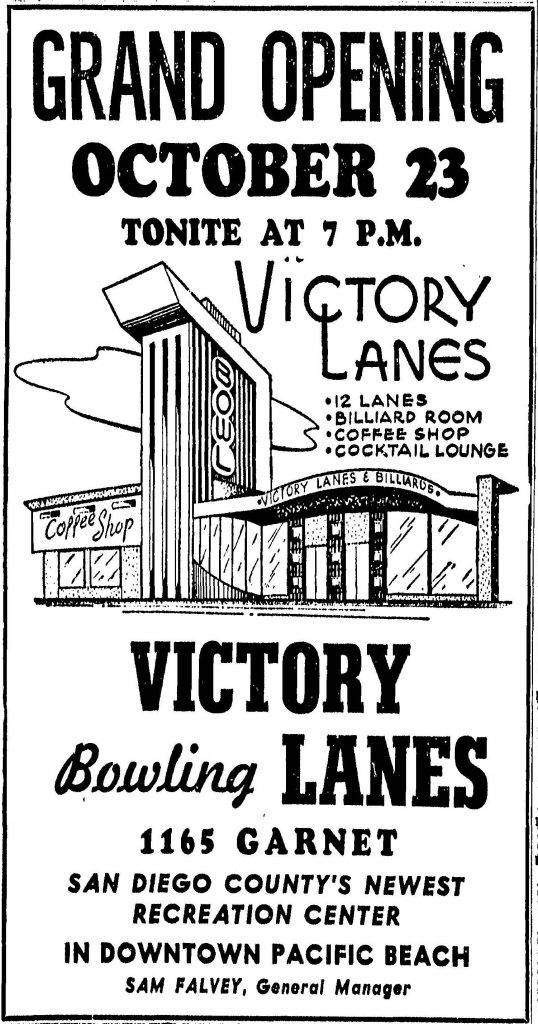 The Victory Lanes bowling alley, a long-time Pacific Beach landmark, held its grand opening in October 1948 at 1165 Garnet. In the same block of Garnet a pair of new buildings went up in the late 1940s, 1118, an auto repair shop and 1122, a paint store. The buildings at 1136, 1138 and 1140 and, across the street, the Arcade building at 1135 Garnet had all opened by 1950. In addition to two storefronts on Garnet, the Arcade building had a long interior corridor that was lined with offices and shops. These buildings are all still there, although the iconic sign on the former Victory Lanes building was taken down in the 1980s and only the base remains. A gas station at 1186, the northwest corner of Everts, had also opened by 1950 but closed by 1970.
Also opened before 1950 were a row of adjoining storefronts in the 1300 block, extending from 1331 to 1349 Garnet. At the time these were a stationer, real estate office, clothing stores, the North Shores Sentinel newspaper and Waibel's Café. Used car lots at 1375, the southwest corner of Gresham, and 1370, the northwest corner, had opened and a brick dentist office at 1344 and the Pacific Beach Veterinary Clinic, still open at 1362 Garnet, had all been built by 1950.
There had been three homes in the 1400 block of Garnet since the 1920s but no further development until a Western Auto store opened at 1401, the southeast corner of Gresham, in 1946. By 1950 a row of storefronts had been built on the south side of the street, between 1415 and 1433, with Garnet beauty shop, H & H model store, a restaurant and an electric contractor. On the north side, between 1430 and 1466 Garnet were Harry Malin optometry, real estate offices, a lawyer, Boney's market and another restaurant. A Tastee Freeze ice cream shop also opened in 1949 at 1474 Garnet, the northwest corner of Haines, but that building is no longer there and today's Mr. Frostie shop is located in the strip mall that replaced it in the 1960s.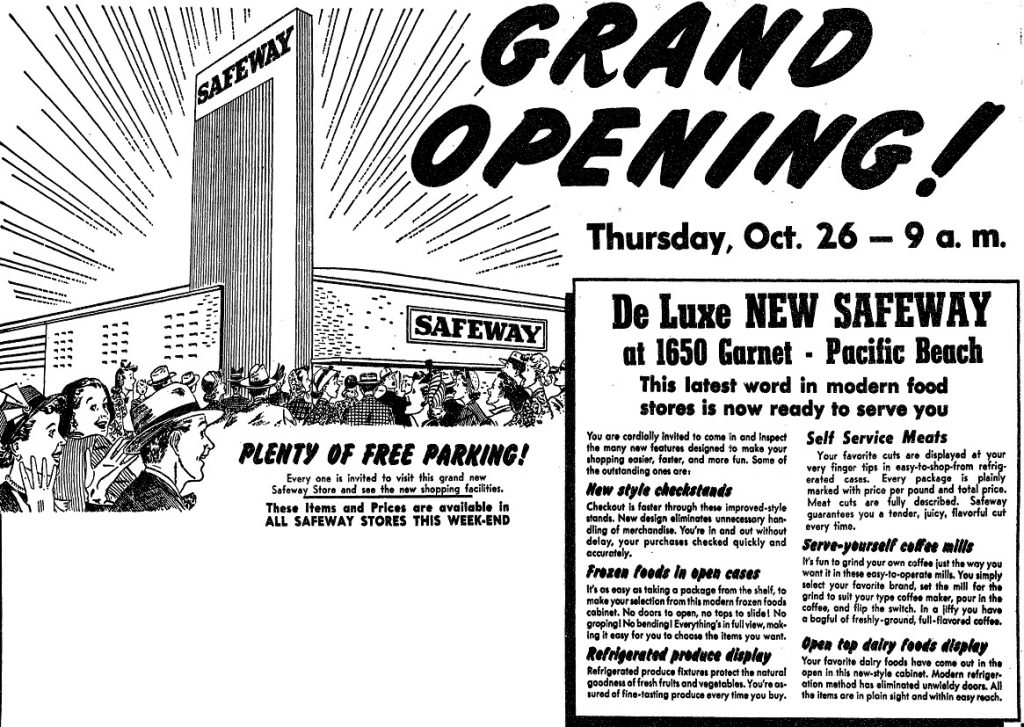 Between Ingraham and Jewell streets the north side of Garnet had long been the parade ground and athletic fields of Brown Military Academy. In 1950 Safeway built what it called its largest and most modern supermarket in San Diego, along with a parking lot that together covered most of that side of the block. In 1961 Safeway replaced that store with what was again characterized as San Diego's most modern supermarket, set further back on the property. The store has since undergone other changes in ownership and been rebuilt again and the space is now anchored by a Trader Joe's market. On the south side of Garnet, Sampsons's Store for Men and Boys also moved into a new building at 1625 Garnet in 1950.
Across from Brown Military Academy in the 1700 block of Garnet an automobile paint shop at 1717, an auto repair shop at 1727 and an appliance shop at 1753 had opened by 1949, Milton's Fix-It shop at 1721 and Lloyd's Bike Shop at 1749 were added the next year and a chiropractor office at 1711 the year after that. In the 1800 block, also across from the academy, a pair of buildings built in 1949 at 1833 and 1837 Garnet became a sheet metal business and poultry shop. The Mission Bay Masonic Club was meeting at 1827 Garnet in 1950.
Development continued along Garnet Avenue during the 1950s. A 'small café' opened in 1950 at the southwest corner of Mission Boulevard which by 1953 had been superseded by Oscar's drive-in. The Old Ox later occupied the site and it is now the Fat Fish. And in January 1951, a month after Safeway held the grand opening of the city's largest supermarket in the 1600 block of Garnet, another supermarket, a Food Basket, said to be the largest in the county, opened at the northwest corner of Garnet and Mission Boulevard.

Dr. Mitchell opened an office at 845 Garnet in 1951 and across the street Earl Taylor built a real estate office at 826 Garnet in 1952. By 1956 a dentist office had also been built next to the doctor at 835 Garnet. In November 1953 a 35,000 square foot building at 909 Garnet, the southeast corner of Bayard, became a J. C. Penney department store. Two other companies, Highlander men's clothing and Evelyn Wigton's apparel, also occupied 25-foot storefronts in the same building, at 915 and 919 Garnet. F. W. Woolworth at 945 and a Singer Sewing Center at 939 Garnet both opened in 1955, and Kirby's Shoes at 929 and Anita Frocks at 931 Garnet were in business by 1957. By 1958 the building at 967 – 969 Garnet had also been constructed; 967 was originally a bargain women's clothing shop and 969 an Italian restaurant.
In the 1000 block of Garnet Bryan's Paint moved across the street from 1035 to a new building at 1060 Garnet in 1950. In 1952 the paint store moved again, to 1062 Garnet, and the Ten Thirty Eight Club became the first of many bars to occupy 1060 Garnet, moving from its previous address at 1038 Garnet. Barbecue Pit opened in 1953 at 1030, Frazee Paint opened next door at 1020 Garnet in 1954 and in 1958 Vic Tanny's gym opened across the street at 1019 Garnet. There had long been a gas station at the northeast corner of Cass but in January 1959 a new branch of Home Federal Savings and Loan opened on that corner, at 1000 Garnet. According to the San Diego Union the two-story Monterey style building included 7,500 square feet and cost a quarter-million dollars. Suburban Savings and Loan had an office across the street at 1001 Garnet, the southeast corner of Cass, but in 1960 a permit valued at $192,000 was issued for construction of a new building to replace their old quarters. In the 1970s and 80s that new building became a Pacific Bell service center.
A & A Hardware opened at 1220 Garnet in 1950 and in 1951 Muehling's  department store, at 1277 Garnet, the southwest corner of Fanuel, a Cornet 5-10-25-cent store at 1257 Garnet, and a building in between with four storefronts, 1261, 1263, 1265 and 1269, then Karl's Shoes, Sid's men's wear, Jewel Box and Mode O'Day women's clothing stores, were built. Two more women's clothing stores, Berner Shops and Remar's, at 1221 and 1231 opened in 1953 and the Thrifty 'cut rate drug store' at 1211 Garnet in 1956. At the opposite end of the block Telisales had opened a television salesroom at 1200 Garnet in November 1952. By 1956 this building had become the Green Room cocktail lounge and has been a drinking establishment ever since (Flamingo, Pink Phink, Daily Planet, Tavern at the Beach).
Kitty-corner across Fanuel from Muehlings's, at 1302 Garnet, the U. S. National Bank building was completed in 1951. The Union reported that bank president C. Arnholt Smith was trying something new, getting away from the conventional design for banks, and that the one-story brick building followed 'Normandy architectural lines'. The brick bank building is still there but is now a Wells Fargo. In 1952 an optometrist and the Allison-McCloskey escrow company moved into a new building at 1350 – 56 Garnet and a lawyer occupied the new building at 1360 Garnet. Another optometrist office had opened by 1956 at 1330 Garnet and a doctor and dentist office at 1324 was open by 1957. Allison-McCloskey escrow moved to a new office building at 1336 Garnet in 1960.
A number of buildings went up in the first years of the 1950s in the 1400 block of Garnet. On the north side, a building at 1420 – 22 Garnet housed Valdon Shops, a women's clothing store, and the Mission Trails gift shop . Across the street, McDaniel's dime store opened at 1439 Garnet and H & R sporting goods, the Hollywood beauty shop, Togs for Tots and Cameron's shoes occupied the building at 1447 – 53. Alexander's book and stationery store opened in one building at 1459 and Golden State Fabrics in another at 1471 Garnet (the house that had been numbered 1471 Garnet since the 1920s was renumbered 1465 and remained, as the Pacific Beach Mortuary and Tommy's TV, until replaced by a bicycle shop in 1970). In the 1500 block a new building at 1550 housed a restaurant in 1950 and one at 1554 Garnet had a furniture business by 1952. In 1954 Golden State Fabrics moved from 1471 into a new building across Haines Street, at 1501 Garnet. The building next door, then numbered 1515, 1517 and 1519 Garnet, had opened the year before as a beauty salon and men's clothing store.
At the southwest corner of Kendall a seat cover center and auto body shop had gone into business at 1775 and 1777 Garnet by 1953. The building at 1735 Garnet was built in 1954 and for years was a Frontier Furniture outlet. Robert Ravenscroft had built a grocery with living quarters upstairs at 1701 Garnet, the southeast corner of Jewell, in 1926. The grocery was closed in 1942 and the upstairs converted to apartments, and in 1977 the entire building, and the adjoining building at 1711 Garnet, was replaced by a San Diego Federal Savings and Loan branch, one of the first to have an automated '24-hour Teller'. The building at 1717 Garnet later became a parking lot for the savings and loan branch, which is now a V-Outlet. The other buildings on this block remain, including a house built in 1926, the first improvement on this side of the block, still standing behind the façade of a smog check station at 1741 Garnet. In the 1800 block, Balboa Electric had opened at 1811 Garnet by 1952. The building which had stood at the southwest corner of Lamont since the 1920s continued to support a variety of commercial activities including a drug store, grocery, laundry, variety store, beauty salon and eventually the Back Door bar throughout the 1950s until it was replaced by a gas station in 1964.
One of the first buildings on Garnet Avenue, and the first residence, had been built in 1894 at the southeast corner of Lamont Street by Sterling Honeycutt, an early Pacific Beach lemon rancher. In the 1920s another structure was built in front of the Honeycutt house that by the 1940s had become Eno's soda fountain, stationer, news dealer, utility company collection office and Greyhound bus depot. Mrs. Eno lived in the former Honeycutt house behind the store. In 1954 these buildings were replaced by Henry's drive-in, at 1905 Garnet. A building across the street at 1926 Garnet was constructed in 1955 for a furniture and appliance store. A building at the northeast corner of Lamont, built in 1958, became a carpet store and the Tumbleweed Tavern before being replaced in 1974 by a Glendale Federal bank.
Brown Military Academy was located on the north side of Garnet between Jewell and Lamont streets. The academy had begun in 1910 as the San Diego Army and Navy Academy in the buildings constructed in the 1880s for the San Diego College of Letters but in the late 1920s had added a number of new buildings including four large reinforced concrete dormitories. Burdened by the construction costs the Army and Navy Academy failed financially during the depression years of the 1930s and the campus had been sold to John Brown Schools in 1937. Since then the academy had been increasingly 'hemmed in' by Pacific Beach's growth and in 1958 Brown Schools 'released' its 23-acre campus 'to meet the community's need for its rapidly increasing business expansion'; retention of the campus for school purposes 'would not be wise financially in view of the land's increased commercial value'. Brown Military would move to a campus in Glendora and the property was sold for over a million dollars to a commercial development company to become a shopping center and apartment project.
The academy's last commencement exercises were held in June 1958 and demolition began soon after; the Union reported in August that workers razing the former college buildings had found artifacts dating from the 1888 ceremonial laying of the cornerstone of the college, the first significant building in Pacific Beach. A groundbreaking ceremony for the Pacific Plaza shopping center was held in 1960 and a supermarket, bank, bowling alley, cinema, numerous stores and huge parking lots filled these two blocks along Garnet soon after. This shopping center was itself extensively rebuilt in the 1980s. Another groundbreaking had taken place at the other end of Garnet in 1959 where a 31,000 square foot building at the southeast corner of Mission Boulevard became the new home of Muehling's department store and later Miller's West. This building was also replaced in 1980 and is now Sea Coast Square.
Garnet Avenue had originally ended just east of Pendleton Street, where it merged into what was then called Grand Avenue (which was also the right of way of the railway between Pacific Beach and downtown San Diego). Grand Avenue (and the railway, before it was scrapped in 1919) continued across Rose Creek and around what had been a race track before turning south on the route of today's Mission Bay Drive. In 1937 what had been Grand east of Lamont Street was renamed Balboa Avenue and Grand Avenue was extended over what had been Ivy Avenue, the street that continued in a straight line from Lamont to Mission Bay Drive through the former race track property. In 1960 the section of Balboa east of the merge with Garnet was renamed again, becoming the extension of Garnet Avenue.
The extension of Garnet Avenue east of Pendleton developed at a different pace and with a different character then the original section of Garnet. Grand Avenue had been much wider than other streets and avenues in Pacific Beach to accommodate the railway which once ran down its center so the section that became Balboa and then the eastern extension of Garnet is wider, and carried more traffic, than the original section of Garnet.
East of Rose Creek Garnet Avenue is now dominated by automotive services, drive-in fast food eateries and strip malls with large parking lots. In 1940 the only consumer business in this district was Boland's grocery near the northwest corner of Mission Bay Drive, then called Pacific Highway. By 1942 a gas station had also opened on southeast corner of the Pacific Highway. Wartime population growth, particularly from the nearby Bayview Terrace housing project, led to commercial building in the block west of Pacific Highway, then the 2700 block of Balboa, with another gas station on the south side of the block and another grocery, a restaurant and a liquor store on the north side. In the intervening years most development in this section has replaced whatever was there before, although the Wienerschnitzel at the corner of Bond Street dates from the mid 1960s. In 1973 Home Savings & Loan built a branch at the southwest corner of Garnet and Mission Bay Drive, now a Chase Bank. The only building remaining from the 1940s is the former Boland's grocery building, now the Nite Owl cocktail lounge.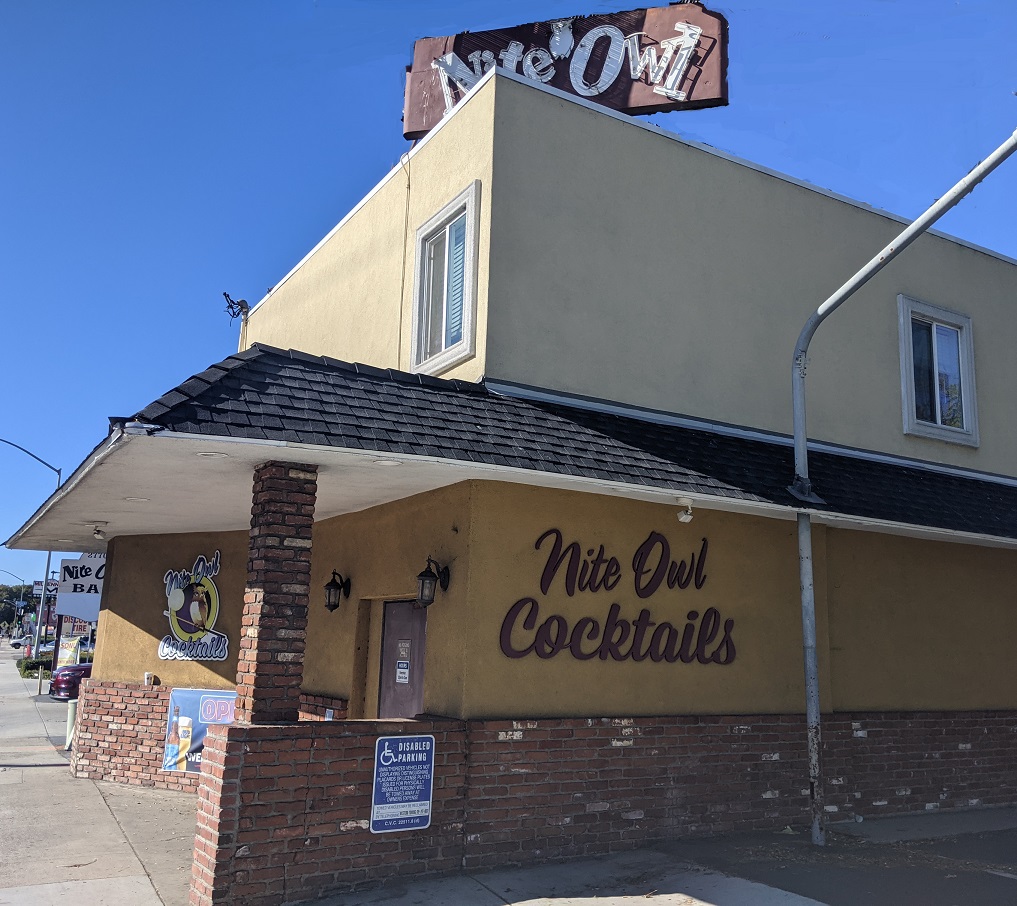 West of Rose Creek the extension of Garnet now passes through what was once the Bayview Terrace federal housing project and is now the Admiral Hartman Community, a government-owned residential area with no frontage on Garnet. In the years before the federal government acquired this property the Kate Sessions nursery sales office was located on this street just west of the creek, a site now commemorated with a California historic landmark plaque. From 1888 to 1893 a plant making asbestos products was also located on the north side of the street, about where it now intersects Soledad Mountain Road. Across the street is the Rose Creek Cottage, the tudor-style dining room from the Scripps Braemar Manor on Mission Bay transplanted to this location in the 1980s. From there a sign points the way to the business district of Garnet Avenue, the main street in Pacific Beach.