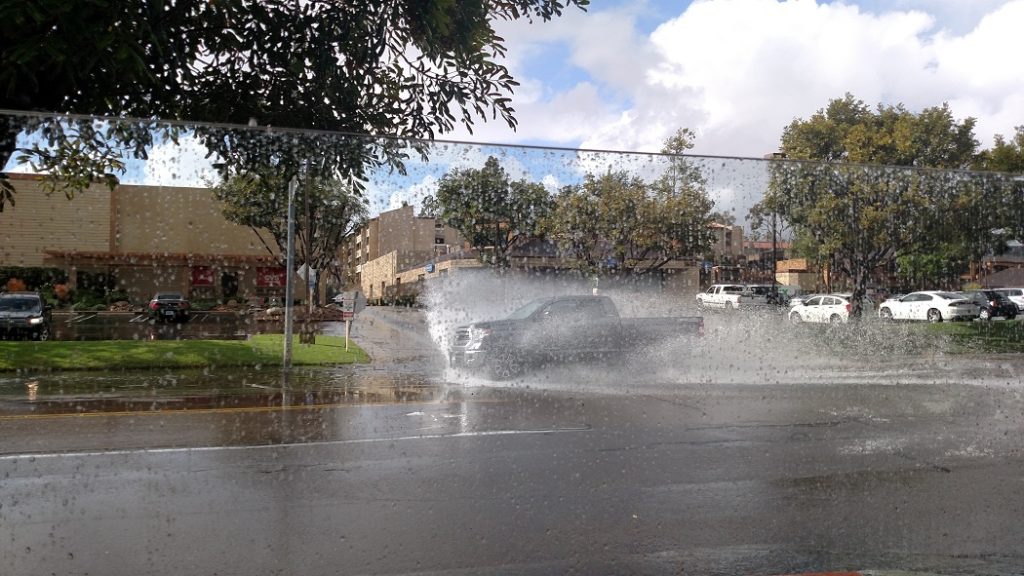 Pacific Beach lies on a coastal plain at the foot of Mount Soledad, which rises toward a summit north of the community. The area receives an average of about ten inches of rain a year, most of it coming during winter storms that can drop a large volume of water in a short period of time. In its natural state, even heavy rainfall was absorbed in the relatively flat plains region, although the extreme southwest corner along the shore of Mission Bay is barely above sea level and drains very slowly. In this area, where the Catamaran Resort is now, rainwater remained at or near the surface and an early settler developed a spring to water a flock of sheep. There are also other locations where natural 'sinks' or depressions in the otherwise level plain could collect rainwater and become seasonal ponds or marshes. Rain falling on Mount Soledad ran off into canyons: Tourmaline Canyon, near the northwest corner of the community, runs into the ocean and the canyon now followed by Soledad Mountain Road drains into Rose Creek and then Mission Bay, but Bone Canyon, above Vickie Drive, and the canyon between Kate Sessions Park and Kate Sessions school, above lower Academy Street, both empty into areas that have become populated.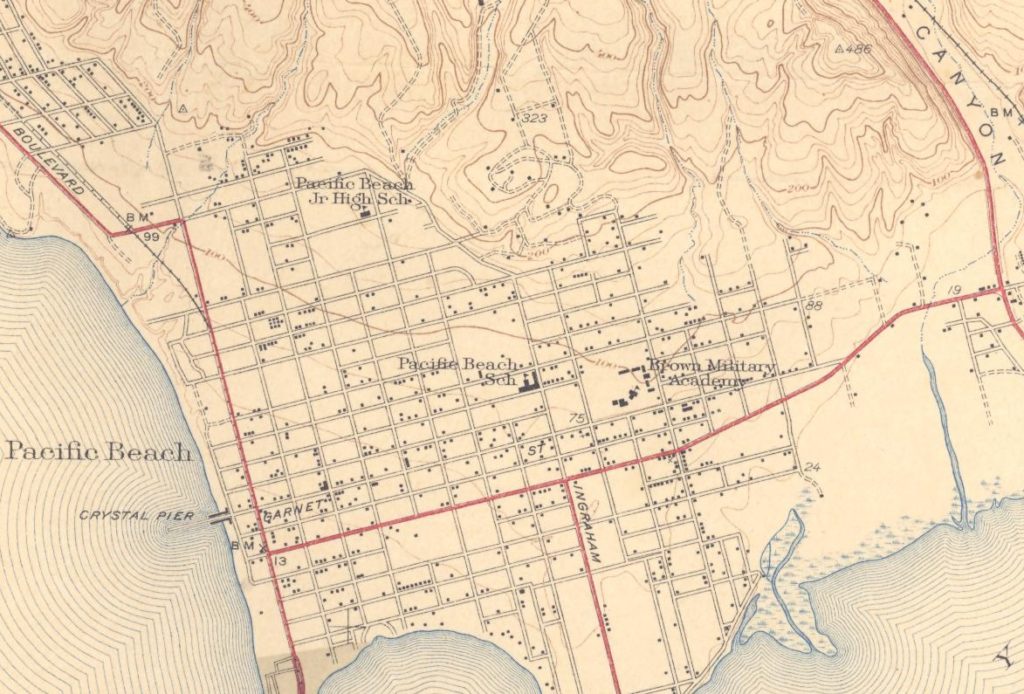 In the first decades after its founding in 1887 Pacific Beach was a rural community covered with fields and orchards that largely benefited from the winter rains. The San Diego Union reported in February 1903 that 'the glorious rains have put everything in the best of shape: the hay fields are looking fine, and the orchards have had a soaking way down deep'. As time went on houses and roads replaced hay fields and orchards, and for these new uses of the land glorious rains could instead leave things in worse shape. In 1901 Fred T. Scripps built a palatial home on the shoreline of Mission Bay in the same low area where the sheep herder had his spring. In January 1916 a series of winter storms that caused devastating floods all over southern California also drenched Pacific Beach. The Union reported that Scripps' home was practically surrounded by water left by the storm and city employees were sent out to help drain the pool.
The canyon above today's Academy Street once sustained a seasonal stream that in winter months flowed south along what became Noyes Street toward Mission Bay. In 1900 the Evening Tribune described the area along Noyes between Diamond Street and Garnet Avenue as 'rich bottom land' and reported that a local farmer was setting out 4000 strawberry plants. But in 1926, after houses had replaced strawberries along Garnet, property owners petitioned the city council to take some action to prevent water draining down Noyes from forming a 'small lake' at the intersection of Noyes and Garnet. They suggested that a closed conduit be constructed along Noyes to care for the flood waters. The Manager of Operation recommended that the City Engineer be instructed to prepare plans for paving Noyes between Garnet and Diamond to take care of the storm waters. Neither of these ideas was implemented at the time.
The war effort of the 1940s led to enormous growth in the population of Pacific Beach, accompanied by increased homebuilding and street improvement, some of which took place in areas prone to flooding. The area around Thomas and Reed avenues between Ingraham and Jewell streets is in one of the natural depressions which earlier owners had drained by digging a ditch westward across Ingraham. The ditch interfered with development of nearby property and in 1941 the city council awarded a contract for what was apparently the first underground storm drain in Pacific Beach, under Reed Avenue between Ingraham and Haines streets. The ditch was then filled in and by 1950 these blocks were lined with houses. This storm drain was later extended to Mission Bay at the foot of Fanuel Street and up Ingraham to Garnet Avenue.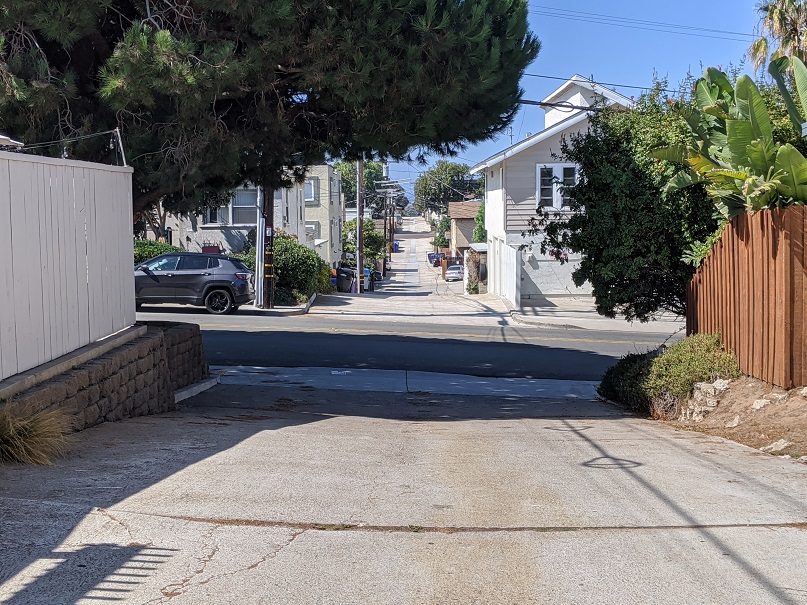 A storm drain also made development possible in a section of northwest Pacific Beach, near where Tourmaline Canyon enters the ocean. The original railroad line between Pacific Beach and La Jolla had crossed this canyon over a bridge but when the line was upgraded to a fast streetcar line in the 1920s the bridge was replaced by a solid dirt embankment over a concrete culvert. The canyon originally continued east for another block or so, between the embankment, now La Jolla Boulevard, and Turquoise Street, but in 1952 the city laid a storm drain in this section of the canyon and in the years since it has been filled in. In its place is a row of houses and the Barrier Reef condominiums along a new block of Sapphire Street.
As streets were paved and houses built on formerly absorptive land, stormwater runoff became an increasing problem in Pacific Beach, particularly in the 'rich bottom land' in the vicinity of Noyes Street. In 1953 the city council came up with a plan for a storm drain system that would empty into Mission Bay at the foot of Olney Street. The drain would run under Olney between the bay and Grand Avenue and under Grand between Olney and Kendall street. A branch would run under Noyes Street between Grand and Diamond Street and from there one branch would run west to Lamont and another would run north to Academy Street and under Academy to Beryl. Half of this project was to be funded by the city under a 1952 storm drain bond issue, but half was to be funded by the owners of over 1000 lots in an assessment district bordering the route of the proposed drain.
When the council met to consider this storm drain project a large group of property owners appeared to protest the project. Most of the complaints were about the boundaries of the assessment district, with owners of property at higher levels complaining that only the owners lower down whose property was affected by stormwater would see any benefit from their assessment payments. Other protesters contended that underground storm drains were not needed at all. Richmond Jackson, who owned a home on Noyes overlooking Academy Street, suggested that the drainage problem could be solved with settling basins, which could also be used for fishing. Any runoff could be contained in surface drains within paved streets. Academy Street, below his house, had been paved a few years earlier and Jackson claimed that it had been successful at draining stormwater in that area. Faced with a survey indicating that 90% of affected property owners opposed it, the council abandoned this ambitious storm drain project in March 1954. Instead the city used its own funds to build a storm drain on Grand Avenue and Olney Street draining into Mission Bay. The city also acquired easements and built a storm drain under two blocks between Morrell and Noyes streets and Grand and Reed avenues, a particularly low area in these 'bottom lands' with a history of flooding, and connected it to the Olney drain.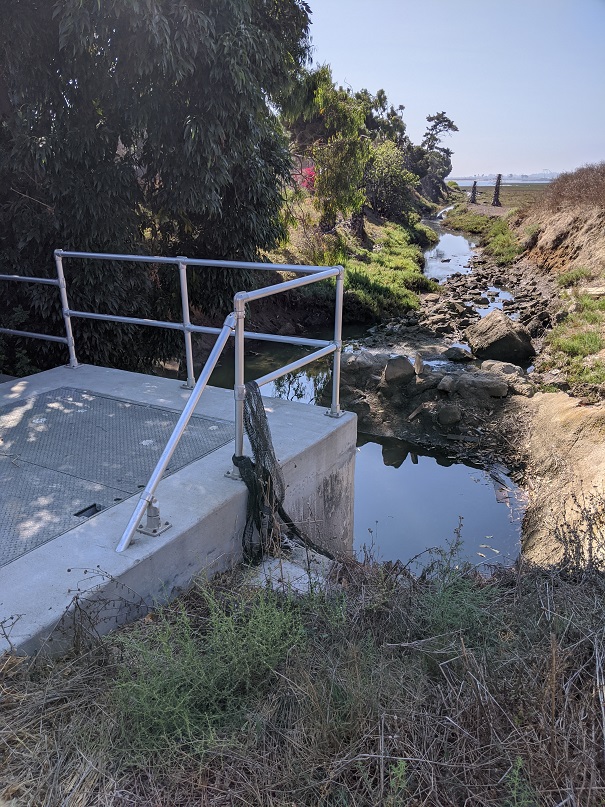 In 1955 a city council proposal to pave and otherwise improve Noyes from Reed to Beryl streets included construction of a storm drain between Grand Avenue and Diamond Street. Again there were protests; the people below wanted the drain, the people above did not. However, this time the council overruled the protests and the street improvements, including the storm drain, were made in 1956. In the years since, as development continued in the foothills above Pacific Beach, this storm drain has been extended up Academy Street and Edgeworth Road to beyond Kate Sessions Park, effectively solving the drainage problems originating from this canyon.
Increased runoff due to development also increased the drainage problems in the low-lying areas of southwestern Pacific Beach, periodically flooding the area around Mission Boulevard and Pacific Beach Drive. In 1953 the existing sewage pumping station there was upgraded to also handle storm water. After a major storm in January 1964 flooded the area once again, city manager Tom Fletcher told the San Diego Union that 'ponding' began at the Mission Boulevard-Pacific Beach Drive intersection after storms of any magnitude, and spread to Oliver Avenue, which is about the same elevation. When the ponding reached a depth of about two feet excess water also ran south on Mission Boulevard, placing a load on the drains there. However, he announced that a project included in the city's capital outlay program for the year would double the capacity of the drainage system. This storm drain project ran up Dawes Street from Mission Bay and along Grand, Fanuel and Felspar as far as the corner of Gresham and Emerald streets. Over the next few years storm drains were also added under Missouri, Loring and Sapphire streets, leading to the ocean.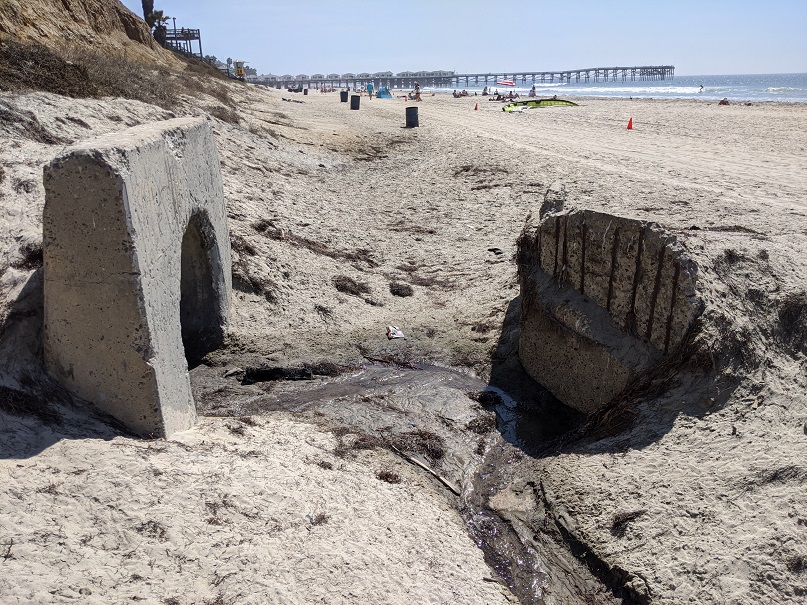 Pacific Beach has continued to grow, and storm drains along Soledad Mountain Road and Vickie Drive were among those added to handle increased runoff as development expanded onto Mount Soledad. In addition to mitigating flooding, some of these large concrete tubes turned out to have other unanticipated uses, at least during the dry season. Members of a Facebook group for Pacific Beach old-timers responded to the question 'Who explored the underground storm drains of PB?' with claims to have not only explored but to have ridden skateboards and Flexies, some with flashlights taped on them for headlights, through the drains. Some recalled riding from the end of Vickie Drive to Tourmaline Beach or skateboarding to Mission Bay. In the wet season, though, the storm drain system is meant to keep Pacific Beach dry and it has generally been effective, although storms of any magnitude still cause ponding in the area where sheep once drank from natural springs and city workers had to bail out Fred Scripps' home.