The San Diego Union-Tribune reported in February 2017 that the city of Encinitas has been struggling with regulation and control of alcohol-serving establishments. According to the U-T, residents there have argued that downtown Encinitas 'is in danger of becoming the region's next Pacific Beach, with late-night bar fights, vandalism, drunken driving and noise complaints'. Although Pacific Beach residents might object to the characterization of their community as the model for alcohol-fueled debauchery, there is no denying that 'alcohol-serving establishments' have become a prominent part of the landscape in recent years. So, how did Pacific Beach get on this 'road to ruin'?
When Pacific Beach was founded in 1887 it was notably 'dry'. The community was originally based around the San Diego College of Letters, one of whose directors was also the preacher at the nearby Presbyterian Church. The college's promotional materials noted that in Pacific Beach there were no saloons. Deeds for all property sold by the Pacific Beach Company included a covenant that if at any time the purchaser, heirs, assigns or successors 'use, or cause to be used, or shall allow or authorize in any manner, directly or indirectly, said premises or any part thereof to be used for the purpose of vending intoxicating liquors for drinking purposes, whether said vending shall be directly or under some evasive guise' the title would revert to the Pacific Beach Company.
The college failed in 1891 and from 1892 to about 1905 the community became a center for lemon ranching. Many of the ranchers were Methodists who perpetuated the dry tendencies of the college community (the lemon ranchers also could rely on their own product for drinking purposes; one of the main uses of lemons was in making lemonade). When most of the property in the community was bought up in 1903 by Folsom Bros. Co., the new owners announced that the liquor selling restrictions of the old Pacific Beach Company would still be enforced.
Restrictions against liquor did not necessarily mean it wasn't available. When national prohibition from 1920 to 1933 eliminated the open sale of alcoholic beverages anywhere in the country people could still obtain alcohol illicitly from bootleggers or moonshiners. In Pacific Beach, a federal prohibition agent raided a home at 4068 Honeycutt Street in April 1923 and found two 10-gallon stills in operation. Eighteen gallons of 'white mule' were found in a cave under the house reached by a trap door in a bedroom. Another raid by 'dry' officers a few days later at Olney and Thomas streets netted a 20-gallon still, 5 gallons of finished liquor and 100 gallons of mash.
When prohibition ended in 1933 Pacific Beach was still a sparsely settled suburb. The coast highway, paved in 1919, ran through Pacific Beach on Garnet Avenue and Cass Street and the intersection of Garnet and Cass became the community's new business center, anchored by the 1926 Dunaway Pharmacy building. Garnet Avenue also continued west from Cass to Crystal Pier, opened in 1926 to attract pleasure-seekers to an ocean-front entertainment district. Mission Boulevard had been paved in 1929 and was also the route of the electric railway line between downtown and La Jolla via Mission Beach. The 1933 San Diego city directory showed a total of 39 addresses along these paved streets in the new business/entertainment zone; 28 on Garnet Avenue in the six blocks between the ocean and Fanuel Street, and another 10 on Cass Street and one on Mission Boulevard within a couple blocks of Garnet. None of these addresses were identified in the city directory as 'liquors', establishments that primarily sold or served alcohol.
Pacific Beach underwent a dramatic increase in population during the war years as thousands of aircraft workers flooded San Diego to work at Consolidated Aircraft and other war industries, and many found homes in the federal housing projects or purchased 'standard built' homes in Pacific Beach. Growth also occurred along the streets of PB's business district, where 62 addresses were listed on the main streets in the 1945 city directory; 42 on Garnet Avenue, and 13 on Cass and 7 on Mission Boulevard near Garnet. In 1945, two of these addresses were identified as 'liquors'; M. S. Kraus at 1038 Garnet and Morris Feldman at 1159 Garnet.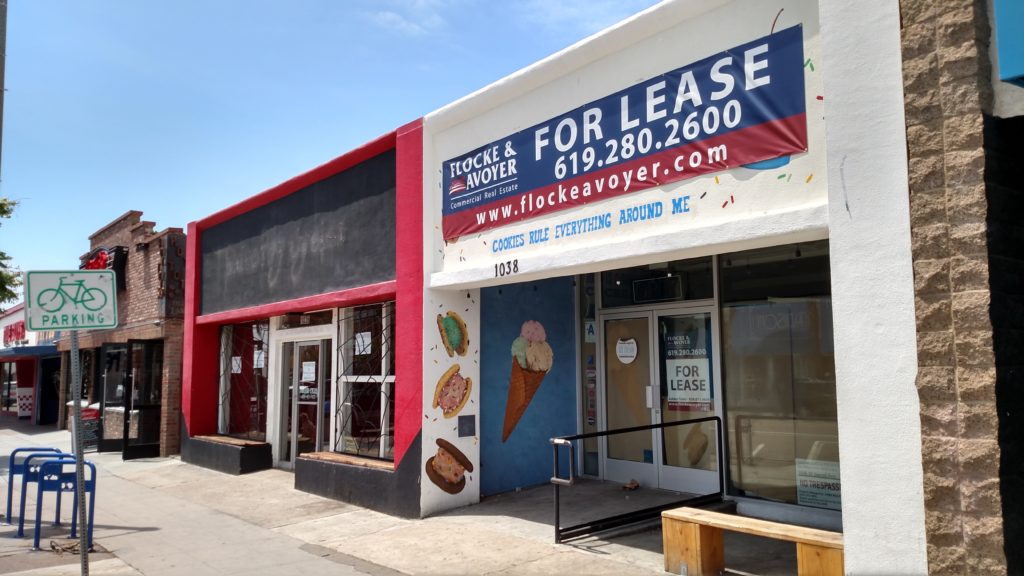 The storefront at 1038 Garnet is vacant today but as the Ten Thirty Eight Club (1947), Kay's Club (1953), Jay's Club (1971) and Stinger's Tavern (1975-2001), it was the forerunner of the bars that now line Garnet Avenue, particularly on this block. The Ten Thirty Eight Club moved a few doors down to 1060 Garnet in 1953 and went on to become the Gay '90s Tavern (1957), Green Door (1963), Two Jays (1972), Maynard's (1974), Cap'n B's Old Place (1977), Plum Crazy (1988) and, since 2014, PB Avenue. And although alcohol is no longer served at 1038 Garnet, it is readily available at a pair of larger bars located on either side; Bub's Dive Bar & Grill, at 1030 Garnet, was opened in 1999 in a former Barbecue Pit restaurant and Cabo Cantina, 1050 Garnet, replaced El Comal restaurant in 2006.
Morris Feldman's establishment at 1159 Garnet was part of the Pacific Beach Amusement Center at the southwest corner of Garnet and Everts, which became the Victory Lanes bowling alley in 1948. In 1971 the building, with 6000 square feet of floor space, was transformed into a concert venue and dance hall called Earth, then, with the addition of a large pipe organ, Organ Power Pizza (1975) and the Spaghetti and Pizza Pavillion (1977). It has since been the Chicago Mining Company, Steamers, Moose McGillycuddy's, Big Bertha's, Typhoon Saloon, Cerveza Jack's and is now Moonshine Beach, a country bar and live music venue. Diagonally across Garnet and Everts, The Tavern at the Beach, at 1200 Garnet since 1997, had been a television salesroom in the early 1950s but then became the Green Room (1955), Flamingo (1960s), Pink Phink (1970s and 1980s), and Daily Planet (1990s). A vacant storefront at 1152 Garnet was My Brother's Place in 1968 and, from 1973 to 2013, the Tiki House, one of the last live rock and roll venues in PB.
Sections of Garnet Avenue closer to the beach also have a history of 'alcohol-serving establishments'. The 1952 city directory listed Bert's Place, beer, at 714 Garnet Avenue, in the short block between Crystal Pier and Mission Boulevard. The following year the Elbow Room joined Bert's at 710 Garnet, and remained in business until the mid 1980s, when it was replaced by Mary's Hang Up (1986), Bangers by the Pier (1988), Blind Melons (1990) and, since 2008, 710 Beach Club. Meanwhile, Bert's Place became John's Place (1957), Monkey Inn (1964), and Casey's Pub (1978) and since 1994, a sportswear shop, Ananas. Maynard's Tavern, at 701 Garnet, the corner of Garnet Avenue and Ocean Boulevard, was popular during the 1960s and 1970s, but that corner has since been redeveloped into a condominium block.
Between Mission and Cass, 832 Garnet Avenue, originally the real estate office of Earl Taylor, the promoter behind the 'new' Pacific Beach business district, was repurposed as CK's Cocktail Lounge in the early 1980s. In 1985 it became the first Improv comedy club franchise. In 1995, after Improv closed, Moondoggies expanded to 832 Garnet from its original location on Everts Street just south of Garnet (which then became The Dog). The new Moondoggies on Garnet was itself taken over and reopened as the Backyard Kitchen & Tap in 2015 (and now claims to be the top Lyft and Uber destination in San Diego). One of the first buildings ever built on Garnet Avenue, a two-story residence dating from 1913, once stood next door to the Backyard, at 860 Garnet. In 1965 it was purchased by Albert Jones and converted into Aljones Mexican Restaurant, which became Diego's Café y Cantina in 1981 and Pacific Beach Bar & Grill and Tremors dance club in 1994. PB Bar & Grill closed in 2015 for extensive remodeling, which included removing the historic building, and has yet to reopen (2018 update; it is now open as Mavericks Beach Club). Once a Woolworth's store, the building at 945 Garnet was Mom's Saloon in the 1970s, Mannikin in the 1980s, Emerald City in the 1990s, then, in 1998, Plan B, a disco club. It is now Johnny V, a nightclub with two dance floors. A few doors down the street, the 'cozy hangout' Crushed opened at 967 Garnet, a former pizza restaurant, in 2014.
Although Garnet Avenue is generally considered the epicenter of the PB bar scene, the two other arteries of the original PB business district, Cass Street and Mission Boulevard, also have their fair share. Historically, the 1950 city directory listed a pair of 'liquors' on Cass a block north of Garnet; Mayers Liquors, on the west side of the street at 4612 Cass (then next door to the Roxy Theater) and Fay Shockley Liquors, across the street at 4629 Cass. 4612 Cass went on to become the Circus Room from 1952 to 1974, then the Tender Trap, Z & Me Bar & Grill and Eddies Bar & Grill, and, since 1986, the Cass St. Bar & Grill. The building at 4629 Cass housed the Kokomo Club from 1952 to the early 1980s.
On Mission Boulevard, Tony Criscola's liquor store, still in business at 4641 Mission, was listed in the 1950 city directory. Across the street at 4614 Mission, Swede's Inn had opened by 1952 and continued in operation as the Seaside Inn from 1953 until the 1970s, although it has since become a sandwich shop. 4302 Mission Boulevard was the Encore Room in 1955, then the Club Lido in 1957, Jose Murphy's Irish Pub in the 1970s and 1980s and has been The Open Bar since 1994. 4656 Mission was the Quiet Village Tavern in the 1960s, then a restaurant until 2005 when it opened as Daddio's Superior Bar & Grill. Since 2010 it has been Dirty Birds. 4633 Mission Boulevard was the Breeze Inn Tavern (1964), Towne Pump Tavern (1970) and Matador (1975-1999), and since 2000 has been Thrusters Lounge. The Duck Dive at 4650 Mission was Tug's Tavern in 1970s and early 1980s, then Hennessey's Bar until 2012.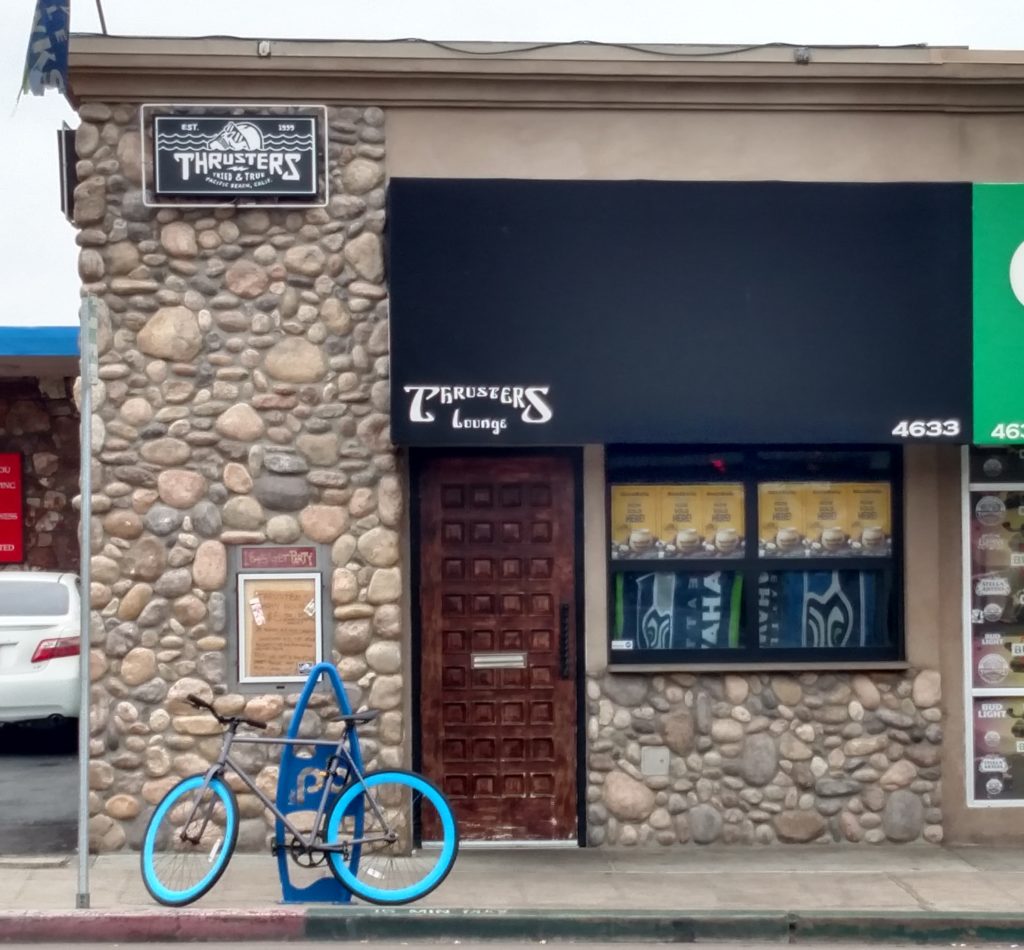 Not all of PB's alcohol-serving establishments have historic roots. Craft beer did not even exist until the 1980s and Pacific Beach AleHouse, a craft brewery at 721 Grand Avenue, San Diego TapRoom, with 50 different beers on tap at 1269 Garnet and Barrel Republic, at 1261 Garnet, with craft beer at self-service taps, have all opened within the last ten years. Open-air beach bars like Pacific Beach Shore Club, at the 'intersection of Grand and the Sand', Lahaina Beach Club at the foot of Oliver and Baja Beach Café at the foot of Thomas go back over thirty years. But bars, cocktail lounges and other sources of intoxicating liquors have existed on the major streets of the historic Pacific Beach business center for more than 60 years.