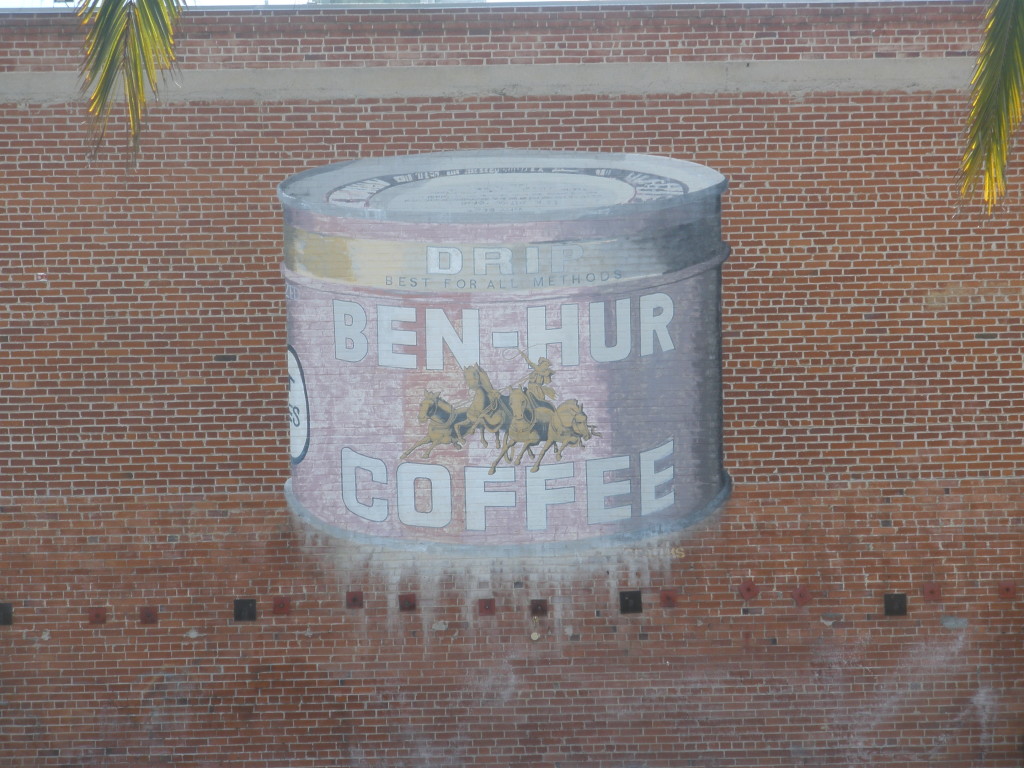 Visitors to the vicinity of West Ivy Street in San Diego's Little Italy district often comment on a mural painted on the brick wall visible from India Street (and the Ballast Point tasting room). The mural depicts a can of Ben-Hur drip coffee (best for all methods, vacuum packed to protect freshness), complete with its logo of a chariot and four charging horses. The mural seems to be old – the Ben-Hur brand of coffee and spices originated as a tie-in to the popular 1925 silent movie and disappeared in the 1950s – but it actually dates from 1982. However, it does mark the building where the popular coffee was once produced and which was home to what is considered to be the first coffee company in San Diego.
In January 1913 the San Diego Union reported that work had been commenced on a modern brick factory building for the Adams-Henry Company, successors to G. H. Ballou & Co., dealers in coffees, teas and spices, on the northeast corner of Ivy and Arctic Avenue (now Kettner Boulevard). The location was considered ideal for a building of this kind on account of its proximity to shipping; it fronted on the tracks of the Los Angeles & San Diego Beach Railroad (the La Jolla line) along Arctic Avenue, was one block from the yards of the Santa Fe railroad and was close to the harbor improvement work. G. H. Ballou had founded the company in 1889 to supply coffee to a handful of local groceries and in 1896 he was joined by Arthur Cosgrove. By the time Cosgrove retired in 1906 the firm of Ballou & Cosgrove was shipping coffee, spices and other commodities to all parts of the United States as well as the Orient, and was 'accounted in the front rank of San Diego enterprises'. Ballou sold the company, then located at the northwest corner of Fifth and K Streets, to Albert E. Adams and William Henry in 1912 (Adams and Henry were also brothers-in-law; Adams was married to Henry's sister Elizabeth).
By 1927 the Union reported that the Adams-Henry Company's product was sold in more than 500 local stores and its trade name, Sun Coffee ('Cups of Sunshine') was said to be familiar to every housewife in southern California. Henry, the company's secretary and treasurer, attributed its expansion to rigid observance of a slogan, 'Dependable years ago, dependable now'. In 1927 the company joined two other local distributors of coffee, tea, extracts and spices in a chamber of commerce 'Buy in San Diego' exhibition to demonstrate that friendly competition can build successful business in San Diego. The companies were said to have an aggregate yearly business of approximately $800,000, much of which had been obtained by inducing San Diego housewives to purchase products made at home.
One of these other companies, the San Diego Coffee Company, had started up in April 1925 and was located a block away at 2157 India Street. In 1928 the Union reported that the San Diego Coffee Company had outgrown its India Street location and purchased the Adams-Henry Company, and that while Adams would retire Henry and the rest of the staff would join the San Diego Coffee Company. The combined company would move into the former Adams-Henry building at the corner of Ivy Street and Kettner Boulevard and would be adding another story to the building and modern roasting and grinding machinery. The San Diego Coffee Company was the local distributor of the famous Ben-Hur brand of coffee, teas and spices, which had been produced in Los Angeles but would now be manufactured and packed in San Diego. The company would also continue to distribute the Sun brand of high-grade coffee.
The San Diego Coffee Company remained at Kettner and Ivy for nearly 20 years and at some point an advertisement featuring Ben-Hur coffee was painted on the east wall. In 1942 pedestrians in the 800 block of W. Ivy Street smelled a strong odor of coffee then saw fire engines en route to the San Diego Coffee Co. building in that block. A fire from a coffee roaster had set fire to coffee particles in the blower system but caused little damage. During the war years, coffee was apparently important enough that the company received a permit to buy truck tires for its delivery fleet, despite rationing. There was also a great shortage of glass containers for vacuumizing coffee and the San Diego Coffee Company offered cash for coffee jars. 'Those who appreciate their favorite coffee at its best will be aiding in the war effort as well as maintaining their own normal living conditions by returning their empty coffee jars – if they are of the round, small-mouth type, BEN-HUR or any other brand'. The company would pay 15 cents per dozen for 1-lb. jars and 30 cents for 2-lb. jars returned to them at 826 West Ivy (these glass Ben-Hur coffee jars are now collectables and can cost over $100 each on eBay).
However, by 1945 San Diego housewives had apparently developed a taste for mass-market national brands of coffee such as Chase & Sanborn, MJB and Hills Bros., and the San Diego Coffee Company faded from the scene. Its place in the building at Kettner and Ivy was taken by the Dandi-Deth Chemical Company, which promised 'Goodbye to pesky insects – DDT is here' and offered the amazing new insecticide developed by the U. S. Army during the war in the form of Insect-X, containing 95% DDT. From 1947 to 1958 another chemical company, the Chapman-Gilbert Company, distributed insecticide and herbicide, including such products as Slayz-Weed, Skeeter-Skram and Ant-Kill, which contained Chlordane ('many times more effective than DDT, yet safe to use'). The building was then used as a warehouse for an athletic supply company and, after being vacant from 1962 to 1964, for a succession of furniture companies.
In 1979 the 'old Ben Hur Coffee building' was leased and plans were announced to restore it and sublease office and retail space. It was apparently during this restoration that the old advertisement for Ben-Hur coffee was mistakenly sandblasted. The owner commissioned a local sign company to paint a replacement, and they produced the mural of a can of Ben-Hur coffee which is there today. It may have been sandblasting for the same restoration project that attempted to remove 'Adams-Henry Company' from the cornice of the building, but in the right light the letters can still be seen.